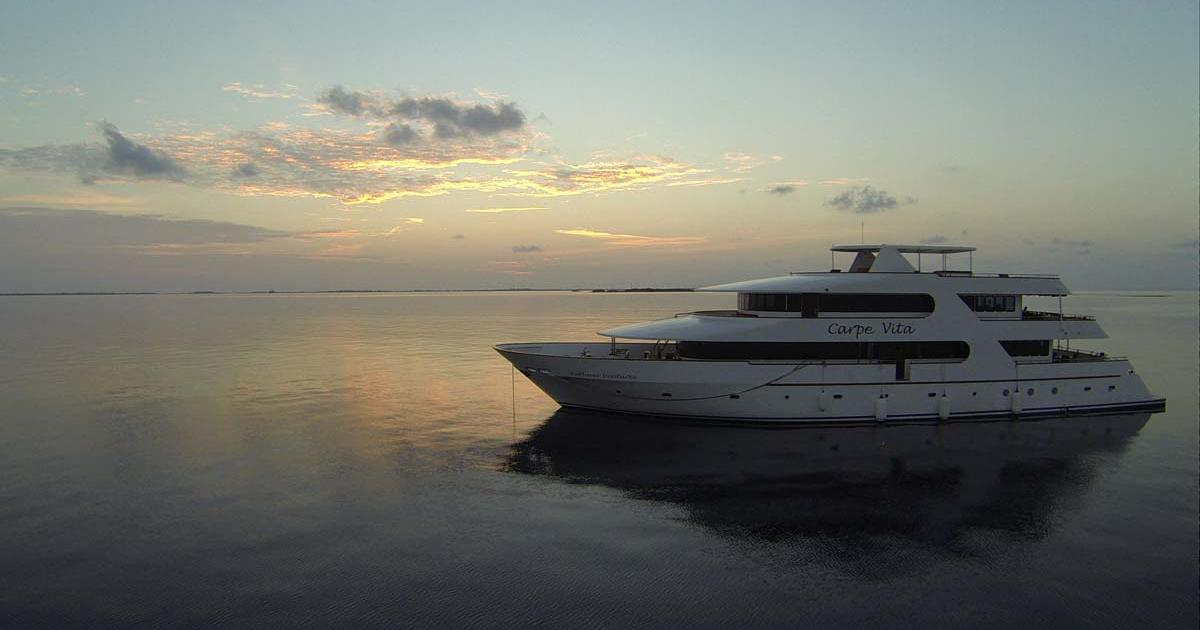 Due to the remote location Maldives liveaboard cruises always offer awesome diving. Prices are generally slightly higher than diving trips in Egypt, Thailand, & Indonesia but most divers have a Maldives liveaboard cruise on their bucket list. The slightly higher rates are due to the large & luxurious boats that offer week-long cruises around the areas which have the best diving. There is diving all year round, and large sharks & rays are almost guaranteed on many itineraries. Selecting the best Maldives liveaboard depends on several factors, which include budget, itinerary, the time of year, and what's available. Prices range from just over $1,000US per person for a 7 days 7 nights cruise. The itineraries mostly depart from and return to Malé and sail around central atolls. But some trips visit northern or southern atolls, and may use other ports. It's possible to dive at The Maldives all year, but certain areas are seasonal.
What Should You Look At When Choosing A Maldives Liveaboard?
---
Maldives liveaboards cost 1,200 USD to 4,000 USD.
The cost of a Maldives liveaboard diving cruise depends on the length of the trip, the level of luxury offered by the boat, and the cabin type. Also, there may be promotions for quieter times of year or last minute bookings. $1,200 US is the average lowest price, and the upper limit in excess of $4,000.
What affects the price of Maldives liveaboard trips?
The length of the trip affects the cost of a Maldives liveaboard
The length of the trip will directly affect the price you pay. Naturally, longer cruises cost more than shorter ones. Trip lengths of Maldives liveaboard diving cruises are most commonly one week, which is often shown as 7 days 7 nights. To fit holiday plans of people coming from Europe, the trips often start on a Saturday or Sunday lunchtime and return on the following Saturday or Sunday morning. Guests are even able to disembark and travel directly to the airport because the itineraries are planned to accommodate the 24 hour 'no-fly time.' However, some Maldives liveaboard trips are longer, for example 10 days 10 nights, and these usually sail to atolls further away from Malé. They may also use a different departure or return port.
Maldives liveaboard costs are affected by the luxury level
The level of luxury on Maldives liveaboard diving cruises is similar across the range of boats, but there are differences. All but the most basic boats have air-conditioned cabins for no more than two guests, and a private bathroom. Most Maldives liveaboards have large air-conditioned lounge saloon areas with comfortable sofas and large dining tables. In addition, to maximise space on board for relaxing, the boats are accompanied by their own support vessel from which diving is done. These vessels are called dhonis, and all the dive equipment is stored on them. Therefore, the main ship doesn't waste space having a dive deck, compressors, and storage areas.
Cabin choice will affect the price of a Maldives liveaboard cruise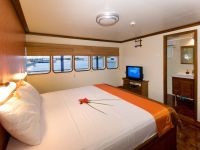 Maldives liveaboard cabins are nearly always for two guests. A few boats have single cabins, often referred to as a Junior Suite, and very few boats have cabins for more than two guests. In general, the cabins have air-conditioning that can be controlled by the guests, a private bathroom, shelves and/or cupboards, and a window or porthole. Beds are sometimes fixed as a large double or twin singles, but some cabins offer the flexibility of choosing between two singles or a double. Cabins on the upper decks are normally more expensive, as these cabins usually have larger windows and better views. Many cabins have a wall-mounted television, and the nicest cabins have a proper bathtub which may even offer an ocean view.
Maldives liveaboard promotions are sometimes available
Maldives liveaboard promotions are normally offered during quieter times of the year, which is June – September. The high-season trips are usually full, so there's no need for the boat operators to offer last-minute discounts. But for trips that don't fill up, sometimes it's possible to get a deal. Promotions normally involve a 10-20% discount from the trip price, and maybe the offer of free Nitrox fills.
A Typical Maldives Liveaboard Itinerary
Each boat operator has their own idea of which itinerary is perfect for their guests' schedules, the sea & weather conditions, and logistics. It's important for them to maximise the best diving opportunities for guests, while ensuring that the first dive site is easy for all levels. But they also have to allow enough time for guests to fly soon after disembarking. In addition, Maldives liveaboard operators need to give their teams enough time to clean the boat & restock provisions for the next trip. But at the same time, the more trips that can be squeezed into the year or diving season the better it is for business. With all these factors to consider, there is a lot of thought that goes into organising Maldives liveaboard itineraries.
---
| | Most-common Maldives liveaboard itinerary | Longer Maldives liveaboard itinerary | Maldives liveaboard itinerary to atolls further away from Malé |
| --- | --- | --- | --- |
| Start of trip | Saturday or Sunday afternoon | Any day of the week | Any day of the week |
| Departure port | Malé | Malé or other | Malé or other |
| First dive | Departure day, late afternoon | Departure day, late afternoon | Departure day, late afternoon |
| Dives per day | Up to 3 dives | Up to 3 dives | Up to 3 dives |
| Final dive | 18 hours before disembarkation | 18 hours before disembarkation | 18 hours before disembarkation |
| End of trip | Saturday or Sunday morning | Any day | Any day |
| Return port | Malé | Malé or other | Malé or other |
| Divers can fly | Same day as disembarkation | Same day as disembarkation | Same day as disembarkation |
| Benefit to guests | No need to book a hotel. Only requires Mon-Fri annual leave from work in Europe. | Can visit atolls further from the busy areas. More dives. | Can visit atolls further away from Malé |
| Potential disadvantages | Many other Maldives liveaboards on the same route/itinerary | May require a domestic flight and/or local hotel booking | May require a domestic flight and/or local hotel booking |
| Benefit to boat | Can maximise number of trips & guests | Increased income per guest | Can offer something new or different. Very few other boats at the chosen dive sites. |
---
December - May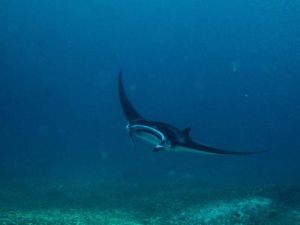 During this period, there are gentle winds from northeast. This is when Maldives liveaboard boats do most of their business. Trips are often fully booked months in advance. On the eastern side of the atolls, the visibility is excellent. But on the western side it is still good. And the reduced visibility is due to plankton, which is of course food for filter-feeding giants such as Manta Rays & Whale Sharks. Predatory sharks are often seen on the eastern side of atolls during these months. Therefore, whichever side of the atolls your Maldives liveaboard is on, you're likely to see something special.
June - November
These months the winds go in the opposite direction and are much stronger. Also, the aforementioned sharks and rays will most likely swap locations. Some Maldives liveaboard boats go into dry dock for annual refurbishments, but not all. The Maldives liveaboards that continue to operate in the rainy season usually modify their itineraries to ensure that safe and comfortable dive trips can be enjoyed. For example, they operate at atolls which have better protection from strong winds or high seas.
It is possible to dive at The Maldives all year round. The weather is either warm or hot, and any wind or rain in the monsoon season doesn't last all day, meaning that there is usually bright sunshine and clear skies every day of the year. However, due to the geographical location in the tropics, there are better & not-so-good times of year to join a Maldives liveaboard diving cruise. In general, December to May is the best time of year to dive at the Maldives. June, July & August are months that see the most rain, and as the seasons change wind & rain can be unpredictable.
---
All Maldives liveaboard boat operators have pre-planned schedules, sometimes two or more years in advance. Also, they all use booking agents in order to maximise their opportunities to sell spaces. In most cases, guests reserve or block their spaces on the liveaboard cruise for a few days, which gives them time to organise annual leave from work and to book flights. Then when they have done that, they confirm their liveaboard booking by paying a deposit. The balance is usually due one or two months before the trip. Using online agent databases, we are able to see which spaces are available on each trip. Then when our Maldives liveaboard guests are ready to reserve or confirm a booking, we block the spaces for them. It's very simple.
Promotions for Maldives liveaboards are advertised on our 'specials page' plus on the relevant boats' schedules. In general, it's quite common for special deals to be offered in the quieter months, June - November. This period has less-predictable weather and sea conditions, meaning that not all the boats are running and those that are may not be full. Special deals normally include a discount on the trip price of 10-20%, and some may also offer Nitrox fills for free. Unlike liveaboard trips in Thailand or other areas, special offers on Maldives liveaboard trips rarely include free rental equipment.
---
Many people are confused by the wide variety of diving areas in The Maldives. And this is not helped by the difficult names or trying to search on a map. These tiny islands in the middle of The Indian Ocean all look very similar to the untrained eye, and zooming out makes most of them disappear. There are no easily-recognisable landmarks on Google maps. Malé is the country's capital city and where most visitors arrive to and depart from. Malé is located on the eastern side near the centre of the more than 1,000 islands that are separated into 26 atolls. Not all of the atolls are visited by Maldives liveaboard trips, but there are 'The Usual Suspects' plus some atolls which are further away or more popular during the rainy season.
Which are the best places for Maldives liveaboard diving?
---
Ari Atoll
Ari Atoll is considered by many to be the best for diving in the Maldives on a liveaboard. Ari Atoll is located not far from Malé, and therefore can easily be included in nearly every itinerary. It is among the largest of the Maldives atolls, but this is no problem for liveaboard trips which can use the surface interval to sail between dive sites. There are at least ten excellent dive sites at Ari Atoll, and the marine life is high in both quantity and quality. Many species of sharks & rays can be seen here. Due to regular medium to strong currents, Ari Atoll is better for more experienced divers. But it's never the first atoll of a Maldives liveaboard itinerary, so even inexperienced divers will have had more experience by the time they arrive there.
---
North Malé Atoll
North Malé Atoll is one of the most-popular diving destinations in The Maldives. As its name suggests, it is located just to the north of Malé. Its close proximity to the capital city and departure & return ports for most Maldives liveaboard trips is part of the reason it's so popular. The marine life and topography are world class, with lots of resident fish and pelagic visitors. Here there are drop offs, swimthroughs, drift dives and even some caves.
---
South Malé Atoll
South Malé Atoll is on most Maldives liveaboard itineraries and often visited at the beginning and/or end of a 7 days 7 nights trip. South Malé Atoll is directly south of Malé Harbour, meaning a very short crossing. When compared to Ari & North Malé, there is not as much coral here. And what is there is mainly made up of soft corals. However, the good news is that this atoll gets lots of nutrient-rich water coming from the north east through half a dozen channels. The result is lots of marine life, including schooling fish and pelagic predators & filter feeders. As a result currents are medium to strong, so novice & inexperienced divers need to be aware and prepared.
---
Baa & Raa
Baa & Raa are in the Maalhosmadulu Atolls, which are directly north of Ari Atoll on the western side of The Maldives Archipelago. These areas are usually the outer extremity of a 7 days 7 nights Maldives liveaboard itinerary that departs from & returns to Malé. There are several submerged pinnacles here, and the diving is considered to be excellent. For many, it's the perfect balance of getting away from the crowded dive sites without having to travel too far. There is a large volume of species here which are residents, and spend their entire lives in this area. Diving here from December to May offers more protection from any wind or currents. This is because the north-easterly currents pass Miladhunmadulu and Faadhippolhu before Maalhosmadulu. Therefore, the marine life that thrives on these currents is less likely to be seen at Baa & Raa during this period. But from June to November the situation is reversed.
---
North Atolls
Far north atolls include Haa Alifu & Haa Dhaalu. Plus Noonu & Lhaviyani, which are on the eastern side and not as far from Malé. Due to there being very few divers and boats in the water here, shy species such as reef sharks are more abundant. In addition, the corals are in better condition than other areas in the central atolls. Dive sites are less explored (including some not discovered yet) and further apart from one another. 7 days 7 night trips from and back to Malé don't come this far, so you need to join a longer trip or one that departs from or returns to a port in the north. Another option is a domestic flight from Malé. Amba is one of the Maldives liveaboards that spends much of its time in the north, and the staff & crew are experts in this area.
---
Southern Atolls
Southern Atolls are similarly quiet to those in the north. Being so far from Malé, the regular week-long trips don't travel this far. Thaa, Laamu & Gaafu are the main atolls in the south. And some people include Vaavu & Meemu in this area, although others claim them to be 'south-central'. Dive sites are still being discovered in the deep south, and those who discover them often try to keep what they find a secret. Like in the north, shy species of sharks and rays thrive here. From June to November this area is the first to receive the winds & currents from the south-western monsoon, which is good for marine life but less enjoyable for humans & boats.
---
---
Getting to The Maldives can only be done by plane. The country is located in The Indian Ocean, with Sri Lanka the nearest large land mass, 1,000 kilometres to the north east. Malé is the country's capital city, and where nearly all international flights arrive. There are dozens of daily flights from around Europe and Asia, and an increasing number of low-cost carriers are adding flights to Malé. From the airport there are ferry services to the main island of Malé, which is where most Maldives liveaboard cruises depart from. Due to the nature of the islands, there are no train services, and very few roads connecting islands.
Visas to enter The Maldives are available on arrival for nationalities of any nation. Tourism is extremely important to the country, and there are very few opportunities for visitors to abuse their visa status by staying too long or trying to work illegally. Therefore, most nationalities get 30 days' stay for free on arrival. It's important to ensure that your passport has at least six months' validity when entering The Maldives.
---
Maldives liveaboard diving often gives the chance to see healthy coral reefs photo by Johan Folmeus 3From December to May the sea & weather conditions are excellent for a scuba diving holiday. The skies are often clear and the weather tropically warm. What little wind there is will come from the north east, and not cause noticeable waves to affect scuba diving. Visibility underwater is better during this period.
From June to November, the monsoon season comes from the southwest and the weather is less predictable. Strong winds and heavy storms are common. Waves can be an issue, as well. The Maldives is the lowest nation in the world, and this means that it's not easy for boats to shelter behind islands. Visibility underwater is affected by the conditions, but the marine life is still abundant throughout the year.
Sea temperatures don't vary much. 26-29°C is common throughout the year. In the southernmost atolls can be 24°C at times.
What levels of divers can join a Maldives liveaboard?
Divers of all levels of certification can dive at The Maldives. Some resorts teach scuba diving, but Maldives liveaboards usually only cater for already-certified divers. Their reasons include having enough qualified staff on board and not wanting to alter itineraries which are designed for certified, experienced, advanced and even professional divers. The currents of the ocean bring the nutrient-rich waters that in turn attract abundant marine life. Therefore, most dives will have some current. Some atolls are prone to stronger currents than others. This depends on the location of the atoll, the time of year, and the number and depth of undersea channels for the water to pass through. All Maldives liveaboard cruise directors will plan dives to ensure that guests are & feel safe. Drift dives are quite common, but these are nothing to worry about. The dhoni (support vessel) drops divers off at the beginning of the dive and will be ready (down current) to collect them at the end.
Some atolls are better suited to experienced divers, but most areas can be enjoyed safely by all levels of scuba diver. In any case, most divers who are prepared to commit to a week at sea diving several times per day already have twenty or more logged dives, meaning that they have enough experience to enjoy a Maldives liveaboard diving cruise.
Maldives Liveaboards
---
Diving cruises at The Maldives are popular due to the luxurious boats and world-class scuba diving opportunities. It's important to book early to make sure that your chosen cabin on the best trip is available. Unless you plan to dive during the low-season months, when special offers are sometimes available. So, now that you have all the information, what are you waiting for? Start searching our Maldives pages, do a 'date search' or just contact us to find out which is the best Maldives liveaboard trip for you.