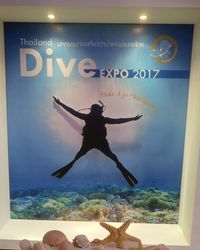 There's nothing like an exhibition (expo) to generate some business, especially at a quiet time of year or to promote something new or different. Although we don't have a booth at the expo, we always visit TDEX to promote the brand name (we all wear our rapidly-becoming-famous t-shirts). Thailand Dive EXPO 2017 was a bit different from previous years in that there were no dive centres based in Khao Lak who had booths, and no real Similan-only dive centres at all. WWDAS (Worldwide Dive & Sail) were there, but they have boats in several countries. Other than them, there was nothing really that focusses on The Similan Islands. However, this was of no concern at all to us, because our Similan low season has just begun and we're now fully focussed on pushing Maldives and Indonesia trips during our quieter months. Therefore, we were very happy to increase our presence and meet some new and old dive centre friends from around the world.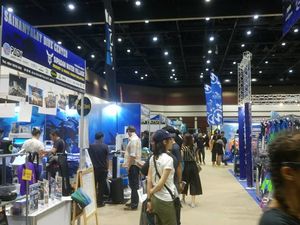 As usual, we came as a gang. This includes the kids, and more. The kids handed out some fliers & t-shirts, until they saw tattoo transfers and a climbing wall, which distracted them for the rest of the day. The expo was very busy, and everyone seemed to be happy, and booth operators reported good business. There were some really good special offers on dive gear*, as well as some great deals on resort & liveaboard diving as well as courses. Although we noticed this year that the vast majority (90+%) of visitors were Thais. In past years, the majority was always Thai, but less so than 2017.
*Siam Diving Enterprises had some crazy (and for sure the best) discounts, and even we purchased some equipment!
It's impossible to gauge how much of a success our visit was or will be, but we get the impression that our name is become more well-known all the time, and only time will tell. For sure, we noticed a lot of visitors, and some booth vendors from different locations, including The Philippines Department of Tourism. There were also several booths run by Indonesian and Maldivian dive companies.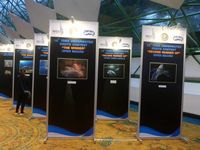 Dive EXPOs are appreciated by different people for different reasons. Some want to push a particular product and may offer special discounts, while others just want to increase awareness of their brand or project. One thing is for sure is that the vibe of everyone involved (staff & visitors) was very positive and we feel that this goes a long way to encouraging people to dive more, spend more, educate more and make the diving world a better place… and this will only have a positive impact on everyone else, especially those who become more aware of how important our seas and oceans are to us all.
Maybe next year No Troubles Just Bubbles will have a booth at TDEX, but even if we don't, we will be there, handing out free t-shirts, fliers and meeting and greeting as many people as we can!