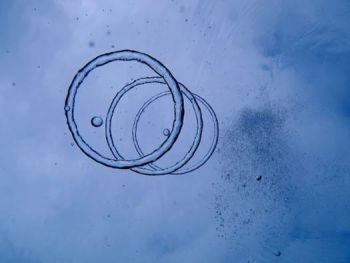 Recreational scuba diving is becoming more and more popular every year. Younger & older people are becoming certified divers and new diving locations are being discovered in seas all around the world. Planet Earth's surface is around 70% sea, so the opportunities for humans to experience breathing underwater are almost endless. While some of us are just thinking about taking our first exciting breaths underwater there are others who want to find remote or undiscovered reefs, and dive with new species or away from the crowds. Whoever you are and whatever your needs, Indonesia is an ideal place to enjoy scuba diving. It's so good, and so large, that after diving in Indonesia you may never feel the need to dive anywhere else.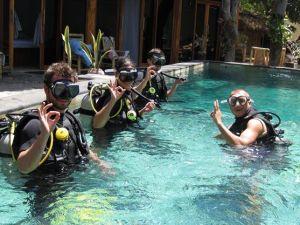 Children as young as 8 years old and pensioners with no age limit can learn to scuba dive, and the age diversity is increasing all the time. Scuba diving is no longer considered an extreme sport, and this enables people of all ages and even the physically-disabled to enjoy life under the sea. Improved infrastructure and facilities in countries all around the world also help. For new divers, including those who have never taken a breath underwater, Indonesia offers plenty of exciting opportunities. The weather is warm all year round, and so is the water. This makes things a lot easier when trying something new and unnatural. Sea and pool water that is normally 28°C enables new divers to focus on and enjoy the experience and have one less excuse not to take the plunge! Secondly, the distraction of hundreds of colourful reef fish is an excellent cure for new divers who feel apprehensive or self-conscious when underwater. Your dive instructor will lead you through the dive, making sure that you enjoy every moment of it. Those who take part in a diving certification course can also benefit from Indonesia's perfect environment. The weather and marine life is just perfect for enjoying the learning experience. Much better than a cold pool or lake in Europe or North America, or cold, murky and rough sea water off the coast. In addition, the opportunities to snorkel around the reef or off the beach before or between dives makes the whole experience easier and more enjoyable. For anyone considering taking part in an 'Introductory scuba dive' or a diving course such as the PADI Open Water (or its equivalent), Indonesia's vast archipelago should be near or at the top of the list of destinations to visit. Bali and Gili Trawangan are regarded by many as the best place to learn to dive in Indonesia, mainly because of the dive sites being nearby and ideal for all levels of scuba diver, from absolute beginner to PADI professional.
Although some certified divers want short travel times and are happy to be underwater surrounded by others, scuba diving is an adventure sport. Adventure is all about new experiences in places where very few (or no) others have been before. For this, Indonesia is perfect, both above and below the surface of its crystal-clear tropical seas. The country is made up of more than 17,000 islands, many of which are uninhabited and all are surrounded by tropical sea, often teeming with healthy marine life. Indonesia spans a vast area of southern Asia, in both the southern & northern hemispheres and joins the Indian & Pacific Oceans. Even now in 2015, new diving sites are being discovered.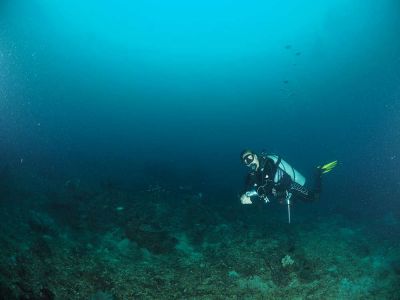 While for the past ten years or more the Komodo Islands have been regarded as the most exciting place to dive in Indonesia, this is no longer the case. The Komodo islands still offer some breathtaking diving opportunities, with a great diversity in marine life and water conditions, but some would say that this area became so popular due to its geographical location not too far from Bali, and it being home the Dragons (lizards). In more recent years, dive operators have opened up further afield, and the growing tourism has prompted airlines to offer more flights to newer locations. West Papua's Raja Ampat is a huge area of islands surrounded by undiscovered reefs and more-commonly visited dive sites. The town of Sorong is the main port for liveaboard diving trips to Raja Ampat. In addition, there are literally hundreds of islands in this area which have yet to be properly explored by scuba divers. Unlike almost every other country in the world, scuba divers can come back to Indonesia time and time again and continue to visit new and exciting dive sites.
In addition to Bali, Gili, Komodo & Raja Ampat, Indonesia has dozens more fantastic places to dive. The Banda Islands, Forgotten Islands, Alor, and Sulawesi are just a few examples of where to find some amazing diving in Indonesia. Most of the main in intermediate islands have airports, too. Come to Indonesia to enjoy some of the best scuba diving in the world, before too many people find out!