While scuba diving is just a holiday activity for many, it is a way of life for some. There is a large amount of scuba divers who, soon after taking up the sport, yearn for their next opportunity to jump into the blue, be it near home or far away. The increasing popularity of scuba diving around the world is a benefit for many, including those who thought they were too old, young, unfit or not wealthy enough to do it, as well as small and large scuba diving businesses around the globe. However, diving's popularity and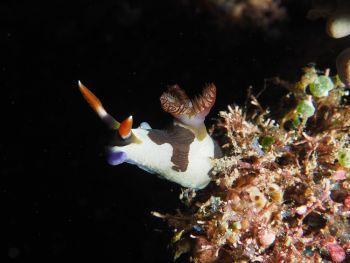 growth mean that more and more people are doing it. Being in the water with many others divers is not always as enjoyable as cruising unexplored and undiscovered coral reefs, seeing creatures that live nowhere else on earth. Finding new places to enjoy scuba diving in pristine tropical waters is becoming more and more difficult, as planet earth is now almost completely explored. Possibly the final frontier for scuba divers in search of the best diving in the world is the remote north-east region of Indonesia, formally known as Irian Jaya or the Four Kings, but now called 'Raja Ampat', in West Papua. Raja Ampat diving is absolutely incredible, and for many good reasons. The sea conditions, healthy corals, marine life diversity and its remote location all add up to the perfect blend for scuba diving nirvana.
Sea conditions in the area are perfect for the marine life
Healthy corals means healthy everything
The most diverse marine life community in the world is there to see
A remote location is good, even if getting there isn't much fun
Raja Ampat Diving, Perfect Sea Conditions
Located between the Indian and Pacific Oceans means that the sea conditions of Raja Ampat are perfect. Yes, there are currents, but they are usually predictable and less extreme than around Komodo. What the sea conditions bring divers are generally calm waters that offer crystal-clear visibility, along with a vast amount of fish species and in large numbers. These sea conditions enable divers of almost any level and experience to enjoy Raja Ampat scuba diving. However, those with more experience will certainly get more out of a Raja Ampat liveaboard cruise than novices.
Healthy Corals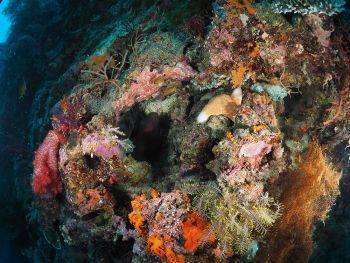 With currents from both oceans bringing nutrient-rich waters all year round, corals are able to thrive in this area. Healthy corals ensure that the rest of the marine ecosystem benefits. As well as large filter feeders such as Manta Rays and Whale Sharks (sightings of the latter are almost guaranteed at Cendarawasih Bay at certain times of year), species of all shapes and sizes require healthy corals to survive. Raja Ampat's corals are extremely colourful, healthy and abundant. Local and national governments understand the importance of this, and are actively working together to protect the area. Thus, as a national marine park it is now the first and largest of its kind anywhere in the world.
Raja Ampat, Most Diverse Marine Life on Earth

Scientists are still discovering new species of fish, invertebrates and corals in this area, and it has been confirmed and agreed that Raja Ampat and the surrounding seas have the most diverse marine life in the world. Some species of nudibranch, bony fish, cephalopods and corals can't be seen anywhere else on earth, and this is a major draw for experienced scuba divers who want to see something new. There is nearly always a pleasant surprise at every Raja Ampat dive site, and the number of these dive sites is growing as more and more are discovered.
Advantages of a Remote Location
The remote location of Raja Ampat is what has enabled it to avoid centuries of development, tourism and overfishing that many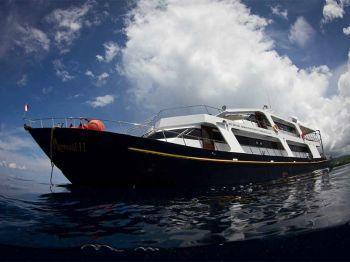 other places have suffered. The local people haven't been exposed to technical and industrial revolutions, and have practiced fishing that has enabled the human and marine populations to survive in harmony. Luckily, local traditions are being respected and they are benefitting from slow increases in tourism. Before any new visitor wants to complain about the inconvenience of reaching Raja Ampat, they should appreciate that this very inconvenience has been the major factor of why the place has remained untouched, and therefore so special. Most Raja Ampat diving enthusiasts fly into Sorong, on the north-western tip of the Bird's Head Peninsula, then take a Raja Ampat liveaboard boat such as Mermaid 1 or Mermaid 2, out to the islands of Misool, Salawati, Batanta, Waigeo and others. There are more than 1,500 islands just in the area of Raja Ampat, and many are uninhabited.
So, what are you waiting for? 30 years ago, almost nobody had ever dived at Raja Ampat using modern scuba diving equipment. Nowadays, more and more divers are visiting on a growing number of Raja Ampat liveaboard boats. In ten years' time, there will definitely be many more divers in the water, and this is likely to have a negative effect on the ecosystem and each diver's experience. Visiting Raja Ampat for a scuba diving cruise is certainly something that should be done sooner rather than later.