Sorry MY Blue Force 3 we don't have trips for this boat at the moment.
These are some alternatives
MY Blue Force 3 is a brand-new, purpose-built, luxury diving liveaboard measuring a massive 42 metres in length. Its huge size enables it to offer lucky guests the best experience on board, both for stability in rough seas and extra space in cabins & communal areas. The boat was designed by divers, for divers and this is evident throughout every section of every deck of this wonderful dive boat.
The large size of Blue Force 3 enables there to be guest cabins on three of the four decks, but not that there are more guests. The boat's capacity is 26, much like most other Red Sea dive liveaboards which are smaller. The boat follows a tried & trusted design of many boats that offer week-long cruises in The Red Sea & The Maldives, with four decks, three of which have air-conditioned indoor areas, plus a huge sundeck on top. But it is able to stand out among them with the extra space, plus an extra day to enjoy on each trip.
The uppermost deck of Blue Force 3 has sunbathing areas, plus a huge shaded section surrounded by comfortable sofas & coffee tables. Here you can mix in couples or groups to enjoy panoramic views. This area is particularly popular first thing in the morning and after dinner. There is a staircase down to the upper deck of the boat. Here, you will find a classy outdoor bar area with more sofas at the rear of the boat, plus comfortable seating for couples and small groups. This area is popular at all times of the day when you're not in the water or asleep. There are also four deluxe guest cabins on this upper deck. They have a double and a single bed, meaning that couples or friends or solo guests can stay in them. These upper-deck deluxe cabins have large windows, and doors which open out onto the deck, giving you the best welcome every morning. All cabins on Blue Force 3 have air conditioning and a private en suite bathroom. There is another sofa and sunbathing area at the front of the upper deck.
The boat's main deck has two standard guest cabins at the front. They also have a large & single bed configuration. Most of this middle deck is the vast indoor air-conditioned lounge saloon & dining room. The dining room has five large tables, ensuring that everyone can eat at the same time. The food is served several times each day, and is simply delicious. Plus fruit & snacks are always available. Connected to the dining room is a large saloon for relaxing on the sofas with a book or watching movies on the flat-screen television. Here you will find an indoor staircase down to the lower-deck guest cabins. And at the rear of the main deck is the dive platform. The 8.7-metre width of Blue Force 3 enables the dive platform to easily have plenty of space to accommodate everyone to gear up together and safely walk down to the lower area before jumping in. Gear is stored sensibly and everyone gets their own tank slot & box. Plenty of rinse tanks allow for your cameras & computers to be well cared for.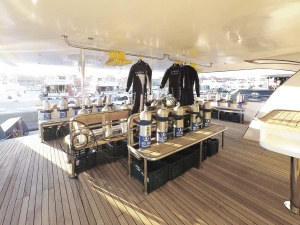 Finally, the lower deck of Blue Force 3 has four more standard cabins (large & single bed) and two triple-bed cabins. The triples have a large bed, plus two single bunk beds. In addition to air conditioning and a private bathroom, every cabin on the boat has storage space for personal items, and is elegantly designed using attractive & practical materials, design & colours. Even though most of your non-diving time will be spent in one of the many communal areas, you will be happy to retire to your luxury cabin at night, or even for a nap during the day.
Because the boat is so new, you can expect all the latest & up-to-date safety, navigation & communication facilities, including wi-fi when in range, Nitrox, and facilities for tech or twin-tank diving. The dive team & crew pride themselves on their professionalism, and helpful & friendly service. This applies to everyone from boat boys to the highly-skilled kitchen team. Plus the dive guides all know every dive site on every itinerary, so they can lead dives confidently while pointing out the fish you want to see.
Prices & Schedule
Included In The Price
Transfers to & from the airport
Transfers to and from local hotels
Meals
Snacks
Tea / coffee
Drinking water
VAT
Weights & weightbelts
Standard tanks
Dive master services
Towels
Soap & Shampoo
Not Included In The Price
Dive equipment
National park fees
Dive computer
Soft drinks
Alcoholic drinks
Dive insurance
Night diving torch
Larger tanks
Nitrox
Mask and Snorkel
Open-heel fins
Full-foot fins
Tips / Gratuities
View More Available Months
Itinerary
There are several itineraries on Blue Force 3.
The itineraries below are the most-common for each trip, but these can sometimes be changed for a number of reasons. Small changes are made due to weather & sea conditions, special marine life sightings, overcrowded dive sites, local-authorities' instructions, and the needs & requests of the paying guests. The safety & comfort of all guests is most important at all times.
Itineraries
Itinerary Name (click the itinerary name to open)
Days / Nights
Number of dives
Facilites, Layout and Specifications
Facilities Available with MY Blue Force 3
Nitrox Available
En Suite Available
Air con
Dinghy
Courses Available
Free Pickup
Lounge
All Cabins En Suite
AV Entertainment
Vegetarian Food Available
Double Beds Available
Sundeck
Shaded Sundeck
Available to Charter
MY Blue Force 3 Layout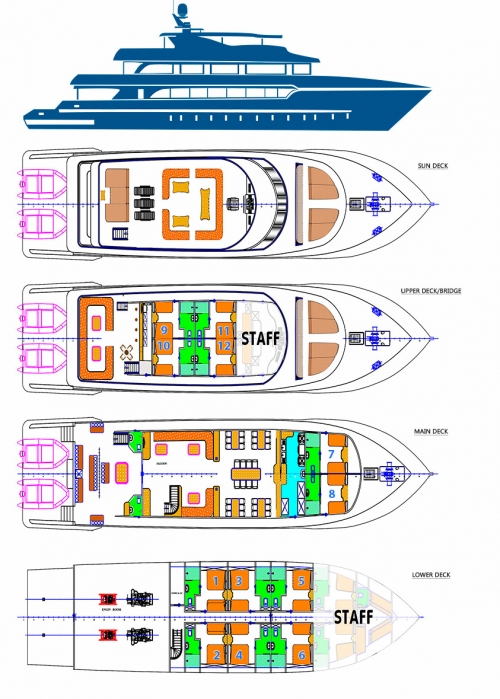 MY Blue Force 3 Specifications
Length:
42 Metres.
Beam:
8.7 Metres.
Draft:
4 Metres.
Crusing speed:
12 knots.
Engines:
2 x 850 HP CATERPILLAR.
Fuel:
26 Tons.
Water:
18 Tons plus 2 desalination units x 2 Ton / day.
Generators:
2 x Perkins 120 kW, 1 x Caterpillar 80 KW.
Electricity:
24 V, 220 V.
Navigation:
2 36/48n.m Radar, 2 Ecosounder, GPS 2 LCD colour, 1 Chartplotter.
Communication:
3 Radiotelephone HF, SSB, DSC, satellite phone.
Safety:
Fire alarm, fire-extinguishing system, desfibrilator.
Diving:
Aluminum S80 tanks DIN/ INT. S100 tanks available on request. 3 Compressors. Membrane Nitrox system.
Courses
Nitrox & Advanced diving courses are available on Blue Force 3. Sometimes, it's possible to book this after boarding, but it's strongly advised to confirm in advance.
Contact us for more information about courses on MY Blue Force 3
Transfer details
The Blue Force team collect guests from local hotels or the nearest airport for free on departure day. At the end of each trip the same transfers are available.
Booking / Enquiry
Booking or enquiring is easy follow these steps
Step 1:
Complete the form below by entering your details
Step 2:
We usually reply within 2 hours (please check your email & spam)
Step 3:
We can reserve your space(s) commitment-free for up to one week
Step 4:
Deposits to book are usually paid using any card, PayPal or bank transfer