Please wait
Please wait loading cabin / trip info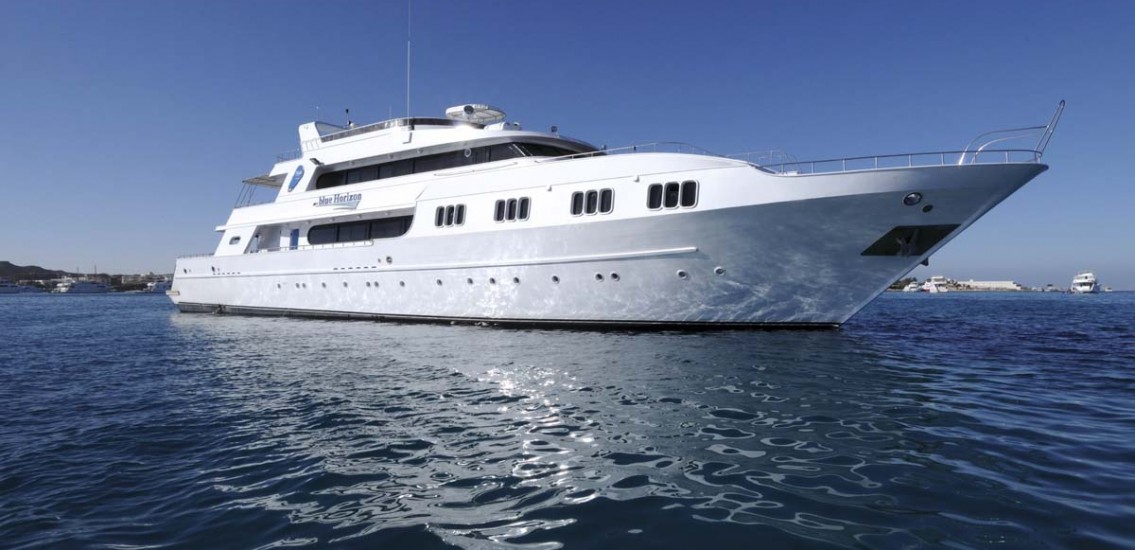 Egypt
Type: Liveaboard
Departs from: Hurghada / Port Ghalib
No. of guests: 26
Prices from:
1,050
USD
MY Blue Horizon is the premier yacht of a well-run fleet of Red Sea diving liveaboards. At 41 metres in length, the boat's huge size enables it to smoothly sail in all conditions without affecting the comfort of up to 26 lucky guests. Before & after its 2016 refit, the boat won several prestigious awards within the industry, in appreciation of its class-leading comfort & design.
The boat follows a similar design which is standard to most Red Sea dive liveaboards, which is four decks & a wooden hull. Guest cabins on two decks, and plenty of outdoor communal areas, both exposed & shaded. And a large air-conditioned dining room & lounge saloon. However, due to its size, high quality materials & classic décor, Blue Horizon is able to stand out among others as one of the most-respected Red Sea liveaboards available. For example, the lounge saloon and dining rooms are completely separate, & on different decks, unlike most other boats.
Starting at the top, Blue Horizon has a huge sundeck which is mostly shaded, and has plenty of soft seating and some tables for al fresco dining. Then the boat's upper deck has a large & luxurious lounge saloon which has a bar, plenty of comfortable furniture, lots of large windows and of course air conditioning. At the rear of this deck is the outdoor relaxing area, giving you great views and the sea breeze. And at the front of this deck is a Jacuzzi!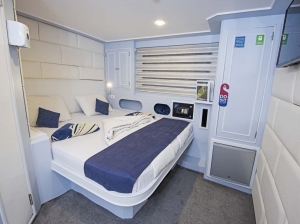 Lower down on Blue Horizon's main deck there are four guest cabins, a dining room, and a simply huge dive deck. The guest cabins on this deck are all master suites, with large windows, a king-size bed, & mini safe. All guest cabins on Blue Horizon have air conditioning, private bathroom, mini fridge & television. The dining room is easily large enough to accommodate all guests eating together. The food is simply delicious and served several times each day, with snacks & fruit always available. Of course, you join these trips for the diving which starts at the rear of this main deck. The dive platform is huge, and spread out over two levels. Everything is in the correct place & well designed. Even a full boat of guests & dive staff can all gear up together and jump in at similar times.
Blue Horizon's lower deck has nine guest cabins. These are four fixed twin bed cabins, plus five which have a double bed plus a single bed. The latter are limited to accommodate two guests, but they can choose to share a bed or stay separate. There's an indoor staircase leading from the lower deck up to the dining room.
Naturally, Blue Horizon is equipped with all the latest safety & communication equipment, plus there's free Wi-Fi. Guests who would like to take a dive course on board can do so, subject to availability, and the whole team are professional & experienced in Egyptian waters, but also helpful & friendly.
Prices & Schedule
MY Blue Horizon Diver Prices Overview 2021 / 2022
Destinations
Duration
Twin Cabin
Double Cabin
Master Cabin

( 18 Dives)

7D / 7N
Twin Cabin

1,050

USD
Double Cabin

1,050

USD
Master Cabin

1,150

USD

( 18 Dives)

7D / 7N
Twin Cabin

1,250

USD
Double Cabin

1,250

USD
Master Cabin

1,350

USD

( 18 Dives)

7D / 7N
Twin Cabin

1,350

USD
Double Cabin

1,350

USD
Master Cabin

1,450

USD

( 18 Dives)

7D / 7N
Twin Cabin

1,350

USD
Double Cabin

1,350

USD
Master Cabin

1,450

USD

( 18 Dives)

7D / 7N
Twin Cabin

1,400

USD
Double Cabin

1,400

USD
Master Cabin

1,500

USD

( 18 Dives)

7D / 7N
Twin Cabin

1,450

USD
Double Cabin

1,450

USD
Master Cabin

1,550

USD
MY Blue Horizon Special Offers Coming Up

Discounted remaining spaces

(18 Dives)

7D / 7N

Twin Cabin

Special Offer

1,400

USD

Double Cabin

Special Offer

1,400

USD

Master Cabin

Special Offer

1,500

USD
Included In The Price
Transfers to & from the airport
Transfers to and from local hotels
Meals
Snacks
Tea / coffee
Drinking water
VAT
Standard tanks
Dive master services
Towels
Soap & Shampoo
Not Included In The Price
Dive equipment
National park fees
Dive computer
Alcoholic drinks
Dive insurance
Enviroment tax
Night diving torch
Larger tanks
Nitrox
Mask and Snorkel
Open-heel fins
Full-foot fins
Tips / Gratuities
View More Available Months
Itinerary
There are several itineraries on MY Blue Horizon. Please carefully select an itinerary from your chosen trip on the schedule or list below. Nearly all trips start on Mondays, and are seven days & nights long. Guests check in during the afternoon or evening and the boat sails in the morning, after everyone has had a comfortable night's sleep. Disembarkation is the following Monday, after breakfast.
The itineraries below are the most-common for each trip, but these can sometimes be changed for a number of reasons. Small changes are made due to weather & sea conditions, special marine life sightings, overcrowded dive sites, local-authorities' instructions, and the needs & requests of the paying guests. The safety & comfort of all guests is most important at all times.
Itineraries
Itinerary Name (click the itinerary name to open)
Days / Nights
Number of dives
The Brothers, Daedalus, Elphinstone
7 Days / 7 Nights
18 Dives
Abu Nuhas, Thistlegorm Wreck, Salem Express, Safaga, The Brothers
7 Days / 7 Nights
18 Dives
St. John's, Fury Shoals, Cave Reef, Wadi Gamal, Elphinstone
7 Days / 7 Nights
18 Dives
Abu Nuhas, Thistlegorm Wreck, Salem Express, Safaga, Ras Mohamed, Shaab el Erg, Gubal, Panorama Reef
7 Days / 7 Nights
18 Dives
Facilites, Layout and Specifications
Facilities Available with MY Blue Horizon
Nitrox Available
En Suite Available
Air con
TV in Cabin
Dinghy
Courses Available
Free Pickup
Suitable for Children
WIFI
Single cabins available
Lounge
All Cabins En Suite
AV Entertainment
Vegetarian Food Available
Double Beds Available
Sundeck
Shaded Sundeck
Available to Charter
MY Blue Horizon Layout
MY Blue Horizon Specifications
Refit:
2016.
Hull:
Wood.
Length:
41 Metres.
Width:
8.75 Metres.
Entertainment:
In-cabin entertainment.
Engines:
2 x Cat 764HP.
Generators:
3 x Cat.
Water Supply:
6000 Litres/day.
Communication:
Radio, VHF.
Safety:
First aid kit, emergency oxygen, life jackets, life rafts, Tag & Dive System, Tender Safety Boxes, Fire Fighting Equipment, AED, Engine Room Fire Control System, smoke detectors.
Dive Equipment:
Nitrox Membrane, Charging Station
Compressors:
2 x 450Ltr L&W.
Courses
There's a range of diving courses available on Blue Horizon's cruises. However, it's normally necessary to book these in advance so that the team can plan ahead.
Contact us for more information about courses on MY Blue Horizon
Transfer details
The team collects guests from local hotels or the nearest airport for free on departure day. At the end of each trip the same transfers are available.
Booking / Enquiry
Booking or enquiring is easy follow these steps
Step 1:
Complete the form below by entering your details
Step 2:
We usually reply within 2 hours (please check your email & spam)
Step 3:
We can reserve your space(s) commitment-free for up to one week
Step 4:
Deposits to book are usually paid using any card, PayPal or bank transfer