MY Blue Seas is a large, well-run, purpose-built Red Sea liveaboard that offers the best selection of cabins & itineraries in The Red Sea. At 37 metres long, there's plenty of space for communal areas and diving decks to be well designed & comfortable. Up to 24 guests can enjoy 7-night cruises to world-class dive sites, while staying in comfortable twin & double air-conditioned cabins.
Although Blue Seas follows a standard design of Red Sea diving liveaboards, the boat stands out from others with its choice of cabins, elegant décor, and the excellent service from the team. As is standard on most diving yachts in The Red Sea, there are four decks, but the size & design of Blue Seas give maximum comfort and convenience.
At the very top of the boat is the sun deck. Here you can enjoy the clear Egyptian skies in the day or at night. There's plenty of shade and the best views from up here, plus sun loungers, sofas & tables. The boat's upper deck has additional sunbathing space, Deluxe guest cabins, and the main 'socialising area.' The front sundeck on this deck is fully exposed and has comfortable sofas with coffee tables, plus soft sun bathing. The Deluxe guest cabins are available with two single beds or doubles (for couples). These cabins have large windows, and doors which open out onto the deck, giving you the best greeting view every morning! Then at the rear of the upper deck is a huge outdoor socialising area that is half shaded & half exposed. Plenty more sofas and coffee tables give guests space to relax or socialise in large groups and small.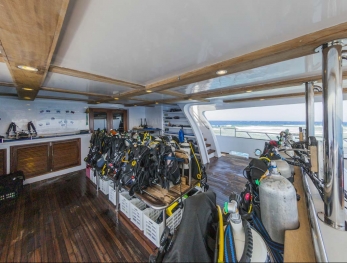 Blue Seas' main deck is where dining & diving take place. The dining is enjoyed in the large air-conditioned indoor saloon. There's space for all guests to sit together and enjoy the delicious food served three times each day. Connected to the dining area is the lounge saloon which has sofas, books & AV entertainment. There's also a staircase leading down to the standard cabins. At the rear of the main deck is the diving area. This is large and well laid out, giving divers plenty of space to store & put on gear, then safely walk down to the platform before jumping in. Compressors & Nitrox fill tanks silently between dives, and of course Nitrox is available for free to certified divers.
The lower deck is home to eight Standard twin cabins and one master cabin. The twin cabins have side-by-side single beds, plenty of storage space, air conditioning, & private bathrooms. These cabins offer the best-value accommodation on the boat. The master cabin is located at the front of the lower deck, and has a large double bed and private (but separate) shower & toilet. This enables one guest to shower and the other to answer the call of nature.
Blue Sea's cruises begin on Thursday evenings, when you arrive for check in. The boat stays in the harbour the first night sailing on Friday in the morning. The week-long trips enable you to enjoy up to 21 dives per week, but without having to stay in a hotel before or after. Disembarkation is the following Thursday morning, after breakfast, with free transfers to local airports. Naturally, the boat has a full complement of safety & communication facilities, ensuring that safety always comes first.
Prices & Schedule
MY Blue Seas Diver Prices Overview 2023 / 2024
Destinations
Duration
Standard Twin
Deluxe Twin
Deluxe Double
Master

( 21 Dives)

7D / 7N
Standard Twin

1,172

USD
Deluxe Twin

1,276

USD
Deluxe Double

1,276

USD
Master

1,172

USD

( 21 Dives)

7D / 7N
Standard Twin

1,172

USD
Deluxe Twin

1,276

USD
Deluxe Double

1,276

USD
Master

1,172

USD

( 18 Dives)

7D / 7N
Standard Twin

1,172

USD
Deluxe Twin

1,276

USD
Deluxe Double

1,276

USD
Master

1,172

USD
Included In The Price
Transfers to & from the airport
Transfers to and from local hotels
Meals
Snacks
Tea / coffee
Drinking water
Soft drinks
VAT
Standard tanks
Nitrox
Towels
Soap & Shampoo
Not Included In The Price
Dive equipment
National park fees
Dive computer
Alcoholic drinks
Dive insurance
Enviroment tax
Night diving torch
Larger tanks
Mask and Snorkel
Open-heel fins
Full-foot fins
Tips / Gratuities
Luggage storage
View More Available Months
Itinerary
There are several itineraries on MY Blue Seas. Please carefully select an itinerary from your chosen trip on the schedule or list below. Nearly all trips start on Thursdays, and are seven days & nights in duration.
The itineraries below are the most-common for each trip, but these can sometimes be changed for a number of reasons. Small changes are made due to weather & sea conditions, special marine life sightings, overcrowded dive sites, local-authorities' instructions, and the needs & requests of the paying guests. The safety & comfort of all guests is most important at all times.
Facilites, Layout and Specifications
Facilities Available with MY Blue Seas
Nitrox Available
En Suite Available
Air con
TV in Cabin
Dinghy
Courses Available
Free Pickup
Lounge
All Cabins En Suite
AV Entertainment
Vegetarian Food Available
Double Beds Available
Sundeck
Shaded Sundeck
Available to Charter
MY Blue Seas Layout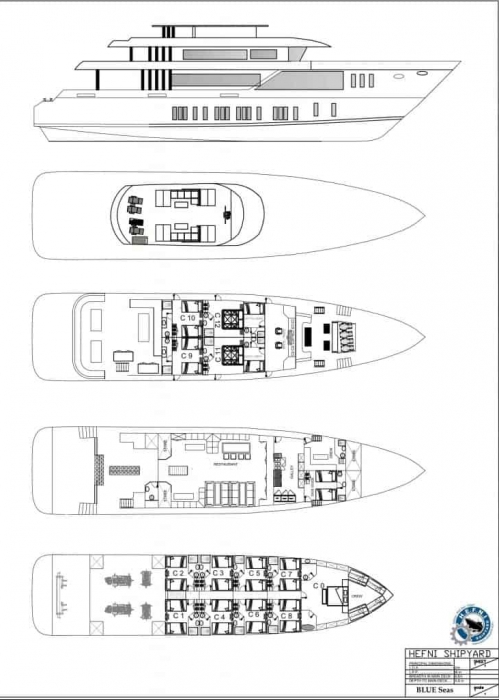 MY Blue Seas Specifications
Built:
2004.
Length:
37 Metres.
Width:
8 Metres.
Speed:
12 to 14 knots
Entertainment:
Sat TV.
Engines:
2x Caterpillar: V12 Cylinders, 3412cc. 764 HP each.
Generators:
2x Kohler 70 KW.
Power Supply:
220 Volt.
Water Supply:
14,000 litre & 2 x Desalination-Plan 5678 litre/ day sea recovery scr awc 1500-2.
Navigation:
2 Double pulse radar systems 36/48n.m., 2 Echo Sounder, 2 GPS Coloured LCD Sounder, Chart plotter.
Communication:
3 Radio-tele. HF, SSB,DSC, GSM Mobile.
Safety:
2 x Life rafts each for 25 Persons, Farady Marine Fire Alarm System.
First Aid:
2x 50-liter Oxygen Tanks + 2x DAN oxygen kit.
Dive Equipment:
20x 12 l Alu Tanks with DIN/INT valve, 15-litre Steel tanks on request.
Compressors:
2x Bauer Compressor (Mariner 200 litre/min) + NRC Nitrox Membran System (NRC Extreme 7).
Facilities:
12x deluxe double or twin bed cabins with en suite bathroom, salon with air-conditioning and 2 sun decks.
Courses
The Advanced Open Water & PADI Nitrox courses are available on request, but pre-booking is usually necessary.
Contact us for more information about courses on MY Blue Seas
Transfer details
The Blue Seas team collect guests from local hotels or the nearest airport for free on departure day. At the end of each trip the same transfers are available. If the boat departs from or returns to Hurghada, free transfers from and back to Hurghada airport and hotels are included. For trips that use Port Ghalib free transfers include Marsa Alam airport and Hurghada areas.
Booking / Enquiry
Booking or enquiring is easy follow these steps
Step 1:
Complete the form below by entering your details
Step 2:
We usually reply within 2 hours (please check your email & spam)
Step 3:
We can reserve your space(s) commitment-free for up to one week
Step 4:
Deposits to book are usually paid using any card, PayPal or bank transfer