Sorry Davy Jones Liveaboard we don't have trips for this boat at the moment.
These are some alternatives
Davy Jones Liveaboard is a recently-renovated Phinisi Schooner that offers some of the best, and best-value, scuba diving liveaboard experiences in Indonesia. Based in Labuan Bajo, Davy Jones Liveaboard sails out to the Komodo National Marine Park every Monday morning, with up to nine lucky & excited guests on board. She can sail on the wind or by motor.
The boat has four cabins, all of which have air conditioning and private en suite bathrooms. Three of the cabins have double beds, and are therefore for couples. The final cabin has three single bunk beds, making it ideal for friends or solo travellers. There is also a lounge saloon for mealtimes, but most of your trip will be spent out on deck or in the water. When moored at night, Davy Jones Liveaboard uses its batteries to supply power, ensuring almost silence for all on board. There is soft LED lighting throughout, and plenty of sockets for charging devices. There are areas out on deck to sunbathe, gaze at the stars, enjoy the view, or relax alone or with other guests.
The itineraries include a trek to visit the iconic Komodo Dragons, plus a beach BBQ. There are up to 16 scheduled dives, plus if you're enthusiastic enough there are optional night dives on some evenings. The 5-metre motorized tender dinghy transports guests to the beach, and is used for diving from and collecting divers when they surface.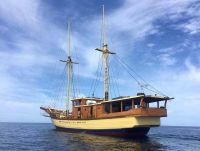 Food on Davy Jones Liveaboard is both delicious and plentiful. Served several times every day, and with unlimited snacks and refreshments, divers are sure never to go hungry. The food is a wonderful blend of local and Western cuisine, created by the on-board chef. If you are a vegetarian, vegan or you have special dietary needs, just let us know in advance. Diving is hungry work, but Davy Jones guests are among the luckiest in the sea.
Davy Jones Liveaboard sails to Komodo throughout the year. Although some other liveaboards require more than 50% occupancy to confirm departure, Davy Jones Liveaboard just requires three paying guests to ensure that a trip sails. All in all, this is a wonderful boat and very popular, so get in touch to book your place now.
Prices & Schedule
View More Available Months
Itinerary
Davy Jones Liveaboard departs from Labuan Bajo at lunchtime on Mondays and there are two dives on that first day. Then for Tuesdays & Wednesdays there are four scheduled dives, plus if you'd like to join optional night dives. On Thursdays there are two or three dives, plus the popular treks on the island to see the Komodo Dragons. On Fridays, there are two morning dives and then departure just after lunchtime.
Facilites, Layout and Specifications
Davy Jones Liveaboard Specifications
Type:
Wood.
Length:
30 Metres.
Width:
6.5 Metres.
Courses
Contact us for more information about courses on Davy Jones Liveaboard
Transfer details
The Davy Jones team collect you from hotels around Labuan Bajo or LBJ Komodo Airport for free on departure day. At the end of each trip the same transfers are available.
Booking / Enquiry
Booking or enquiring is easy follow these steps
Step 1:
Complete the form below by entering your details
Step 2:
We usually reply within 2 hours (please check your email & spam)
Step 3:
We can reserve your space(s) commitment-free for up to one week
Step 4:
Deposits to book are usually paid using any card, PayPal or bank transfer