Please wait
Please wait loading cabin / trip info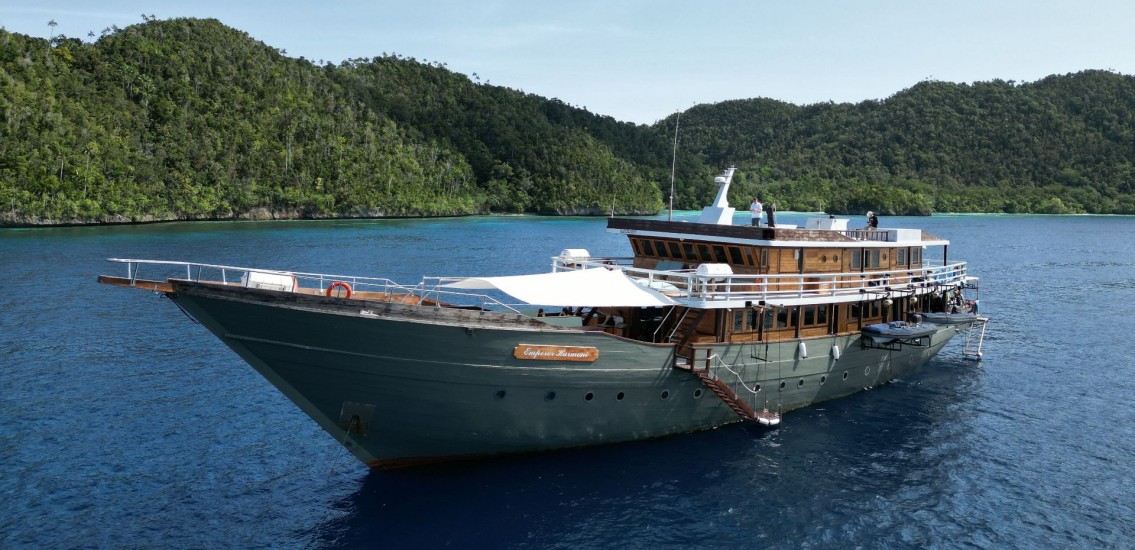 Indonesia
Type: Liveaboard
Departs from: Bali / Labuan Bajo, Flores / Maumere, Flores / Waisai, West Papua
No. of guests: 20
Prices from:
2,931
USD
MY Emperor Harmoni is the newest and among the largest luxury Indonesian scuba diving liveaboards. Its traditional design is in keeping with Sulawesi ironwood Phinisi schooners, but its interior is contemporary design. At 48 metres in length and with three decks, the boat is huge. Unlike almost every other Indonesia liveaboard, Harmoni is powered by two motors, but can also sail on the wind. Starting trips in July 2020, up to twenty lucky guests are welcome on each cruise, but even if only one or two join every trip is guaranteed!
There are ten cabins on board. Four are located on the upper deck, and six on the lower deck. All cabins have individually-controlled air conditioning and private bathrooms. The upper-deck cabins also have large windows, compared to portholes on the lower deck. On the middle deck is a huge, air-conditioned lounge saloon and dining restaurant. The design is contemporary, tasteful and in keeping with the boat's design but meeting guests' needs & desires. Fine diving is guaranteed either indoors or out on deck, enjoying the stunning views. A glass of wine is served for free with each evening meal, and the well-stocked bar has plenty of choice to perfectly complement the delicious food on offer. Like the rest of the crew, the chef's team are dedicated to making every moment of your Komodo or Raja Ampat diving cruise one to remember for many years to come.
Emperor Harmoni stands out from other liveaboards in Indonesia with free Nitrox fills and prices that include marine park & harbour fees and any local taxes. Solo travellers are guaranteed not be sharing with another guest of the opposite sex. Instead they will be placed in a twin-bunk cabin with a guest of the same gender, or given a cabin to themselves.
Ensuring that all the best diving locations are visited throughout the year, MY Emperor Harmoni travels around Indonesia. In July, August & September there are 7 Day / 7 Ninght cruises at the Komodo Islands. From late November until May Harmoni offers 7-night and 9-night cruises around Raja Ampat, west Papua. And in between there are 'crossing trips' which sail across the Banda Sea (Ring of Fire/Spice Islands).
Prices & Schedule
MY Emperor Harmoni Diver Prices Overview 2021 / 2022
Destinations
Duration
Twin Lower Deck
Double Lower Deck
Twin Upper Deck
Double Upper Deck

( 18 Dives)

7D / 7N
Twin Lower Deck

2,931

USD
Double Lower Deck

2,931

USD
Twin Upper Deck

3,208

USD
Double Upper Deck

3,208

USD

( 24 Dives)

9D / 9N
Twin Lower Deck

4,232

USD
Double Lower Deck

4,232

USD
Twin Upper Deck

4,508

USD
Double Upper Deck

4,508

USD

( 18 Dives)

7D / 7N
Twin Lower Deck

4,285

USD
Double Lower Deck

4,285

USD
Twin Upper Deck

4,561

USD
Double Upper Deck

4,561

USD

( 24 Dives)

9D / 9N
Twin Lower Deck

5,721

USD
Double Lower Deck

5,721

USD
Twin Upper Deck

5,997

USD
Double Upper Deck

5,997

USD

( 33 Dives)

12D / 12N
Twin Lower Deck

7,345

USD
Double Lower Deck

7,345

USD
Twin Upper Deck

7,622

USD
Double Upper Deck

7,622

USD
MY Emperor Harmoni Special Offers Coming Up

Park & port fees included

We lots of discounts for this boat please see schedule for details
Included In The Price
Transfers to & from the airport
Transfers to and from local hotels
National park fees
Meals
Snacks
Tea / coffee
Drinking water
Soft drinks
Enviroment tax
Weights & weightbelts
Standard tanks
Dive master services
Nitrox
Towels
Soap & Shampoo
Luggage storage
Not Included In The Price
Dive equipment
Dive computer
Alcoholic drinks
Dive insurance
Night diving torch
Larger tanks
Tips / Gratuities
View More Available Months
Itinerary
There are several itineraries for MY Emperor Harmoni, and most are regular trips in Komodo or Raja Ampat. These are normally 7D/7N but some are 9D/9N. Raja Ampat trips begin in Wasai, and end in Sorong. The rates include the ferry transfer from Sorong to Wasai on departure day.
There are also 'crossing trips' that start in one location and finish in another. These are normally 12D/12N.
The itineraries below are the most-common for each trip, but these can sometimes be changed for a number of reasons. Small changes are made due to weather & sea conditions, special marine life sightings, overcrowded dive sites, local-authorities' instructions, and the needs & requests of the paying guests. The safety & comfort of all guests is most important at all times.
Itineraries
Itinerary Name (click the itinerary name to open)
Days / Nights
Number of dives
Komodo
7 Days / 7 Nights
18 Dives
Raja Ampat
7 Days / 7 Nights
18 Dives
Raja Ampat
9 Days / 9 Nights
24 Dives
Facilites, Layout and Specifications
Facilities Available with MY Emperor Harmoni
Nitrox Available
En Suite Available
Air con
TV in Cabin
Dinghy
Courses Available
Free Pickup
Lounge
All Cabins En Suite
AV Entertainment
Vegetarian Food Available
Double Beds Available
Sundeck
Shaded Sundeck
Available to Charter
Beach Transfers
MY Emperor Harmoni Layout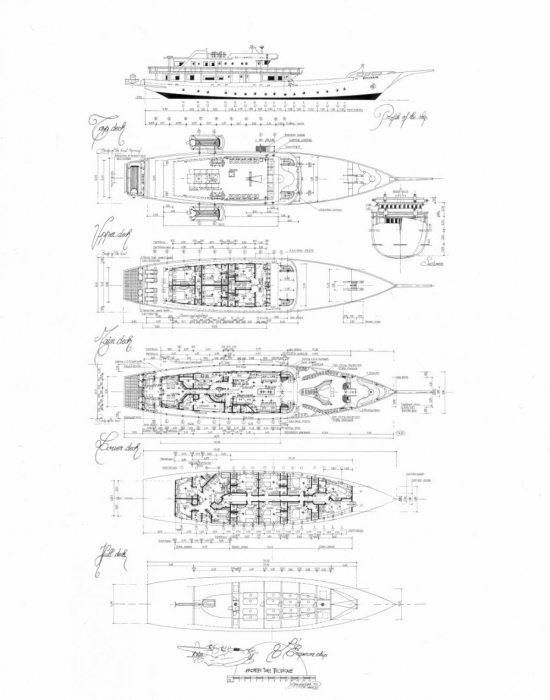 MY Emperor Harmoni Specifications
Type:
Length:
48 metres.
Beam:
Engine:
Generators:
Desalination:
Navigation & Comms:
Compressors:
Tanks:
Safety:
Cabins:
Entertainment:
49" HD flat screen, digital movie and music library, board games, bar and a camera suite.
Dinghy:
2 x large RIBs with outboards
Camera facilities:
Yes, camera suite.
Courses
Contact us for more information about courses on MY Emperor Harmoni
Transfer details
Emperor Harmoni offers free transfers from local hotels and the nearest airport before the cruise and back to local hotels and the nearest airport after the cruise. They are normally scheduled to coincide with flights and other guests' pickup times, and the boat's departure and return.
Booking / Enquiry
Booking or enquiring is easy follow these steps
Step 1:
Complete the form below by entering your details
Step 2:
We usually reply within 2 hours (please check your email & spam)
Step 3:
We can reserve your space(s) commitment-free for up to one week
Step 4:
Deposits to book are usually paid using any card, PayPal or bank transfer