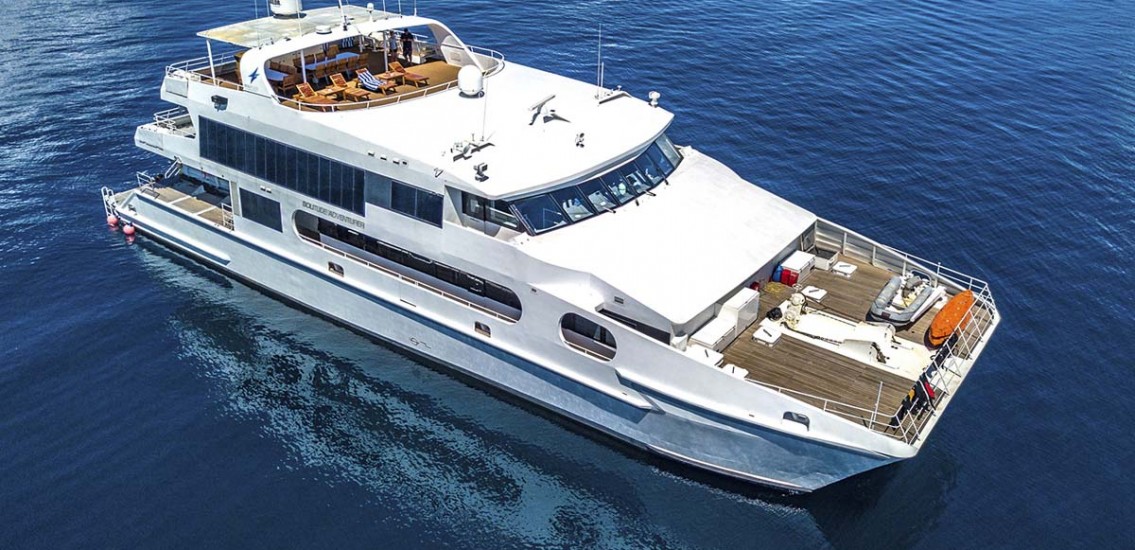 Indonesia
Type: Liveaboard
Departs from: Ambon / Labuan Bajo / Maumere / Sorong
No. of guests: 18
Prices from:
2,700
USD
This 36-metre-long catamaran is the ideal vessel for luxurious Indonesia liveaboard diving safaris. Although the traditional phinisi schooners have their own unique charm, when you're sailing across the sea and diving up to four times per day, Solitude Adventurer is perfect! Large, stable, luxurious and with modern cabins & communal areas, there is no better way to enjoy liveaboard diving cruises of six days to two weeks in crystal-clear tropical seas.
Solitude Adventurer was very recently fully renovated to perfectly accommodate up to 18 lucky guests in luxurious cabins. On the boat's upper deck there are six deluxe cabins which have floor-to-ceiling windows, offering stunning views of the sea. Naturally, they're air conditioned, have en suite bathrooms and many other amenities, Two of the six deluxe cabins have extra windows on another wall, for even more light and a better view. On the main deck there's a 4-person cabin with bunk beds. This also has its own private bathroom, air conditioning, large window, desk & chairs. It's ideal for families, groups of friends, or solo divers who want the very best value for the cruise. And finally the master stateroom is also located on the main deck. This vast cabin has a king-size bed plus a single bed and lots of space to move around, plus an airy feel of spaciousness.
Comfortable communal areas on Solitude Adventurer are available both indoors & out. On the main deck behind the cabins there is a large dining lounge saloon. Here you can enjoy dive briefings, maybe a movie on the huge flat-screen tv, or just chill out away from the heat. This saloon has lots of comfortable seating and is elegantly designed & decorated. But why come all this way to stay indoors? At the rear of the upper deck is a large outdoor lounge & bar. It is shaded, but gives panoramic views and of course a wonderful sea breeze. And on the top deck there's a large dining area for guests to enjoy the simply delicious cuisine that is served in large portions by helpful staff. In fact, although the vessel itself is wonderful, it's Adventurer's crew that makes your experience so special. Solitude Adventurer also has two areas for sun worshippers, so you can top up your tan every day. And there's a dedicated camera room, with multiple stations for keen and professional photographers to attend to their equipment.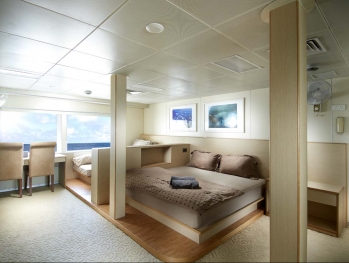 All this, even before discussing the diving side of things. Solitude Adventurer has a huge dive deck, with plenty of space for guests to store and put on their gear. Its surface is a tasteful, non-slip design. The compressors work quietly between dives and everything is ready for you to jump in the crystal-clear waters of Indonesia. There are two sets of steps down from the dive deck to platforms almost at sea level. And of course there are two motorised tender dinghies to drop divers off or pick them up when needed. Safety is the most-important aspect of these trips, followed closely by luxury & relaxing fun, but safety always comes first. Every diver has a visible & audible device to be found in case they surface far from the main boat, plus a GPS locator.
Solitude Adventurer sails around Indonesia, following the seasons for the best diving conditions. Raja Ampat & Komodo are the most-popular choices for world-class diving in Indonesia, but Maumere, Ambon, Lembeh & Halmahera all offer exceptional diving, too. Adventurer's itineraries perfectly match guests' needs with the best times of year to visit.
Prices & Schedule
Solitude Adventurer Diver Prices Overview 2023 / 2024
Destinations
Duration
Bunk Cabin
Deluxe Cabin
Master Cabin
Stateroom

( 15 Dives)

6D / 6N
Bunk Cabin

2,700

USD
Deluxe Cabin

2,790

USD
Master Cabin

2,790

USD
Stateroom

2,940

USD

( 18 Dives)

7D / 7N
Bunk Cabin

3,955

USD
Deluxe Cabin

4,060

USD
Master Cabin

4,060

USD
Stateroom

4,235

USD

( 21 Dives)

8D / 8N
Bunk Cabin

3,960

USD
Deluxe Cabin

4,080

USD
Master Cabin

4,080

USD
Stateroom

4,280

USD

( 21 Dives)

8D / 8N
Bunk Cabin

4,320

USD
Deluxe Cabin

4,440

USD
Master Cabin

4,440

USD
Stateroom

4,600

USD

( 21 Dives)

8D / 8N
Bunk Cabin

4,560

USD
Deluxe Cabin

4,680

USD
Master Cabin

4,680

USD
Stateroom

4,880

USD

( 30 Dives)

11D / 11N
Bunk Cabin

5,940

USD
Deluxe Cabin

6,105

USD
Master Cabin

6,105

USD
Stateroom

6,325

USD

( 33 Dives)

12D / 12N
Bunk Cabin

6,840

USD
Deluxe Cabin

7,020

USD
Master Cabin

7,020

USD
Stateroom

7,320

USD

( 30 Dives)

11D / 11N
Bunk Cabin

7,535

USD
Deluxe Cabin

7,700

USD
Master Cabin

7,700

USD
Stateroom

7,975

USD

( 33 Dives)

12D / 12N
Bunk Cabin

8,220

USD
Deluxe Cabin

8,400

USD
Master Cabin

8,400

USD
Stateroom

8,700

USD
Included In The Price
Transfers to & from the airport
Transfers to and from local hotels
Meals
Snacks
Tea / coffee
Drinking water
VAT
Weights & weightbelts
Standard tanks
Dive master services
Towels
Soap & Shampoo
Luggage storage
Not Included In The Price
Dive equipment
National park fees
Dive computer
Alcoholic drinks
Dive insurance
Enviroment tax
Night diving torch
Larger tanks
Nitrox
Mask and Snorkel
Open-heel fins
Full-foot fins
Tips / Gratuities
View More Available Months
Itinerary
There are several different itineraries on Solitude Adventurer, because during the year the boat follows the best diving locations of Indonesia. And between the Raja Ampat and Komodo seasons, the boat offers 'crossing trips' which cross The Banda Sea, offering truly world-class diving.
In nearly all cases, guests are welcomed on board from 8.00am onwards on departure day, and sometimes there is an easy check dive in the afternoon. This depends on the location of the boat and at what time all the guests have arrived and completed check in & orientation. Then from the second day onwards there are up to four dives per day, except on the final full day on board which offers up to two dives to allow for off-gassing before flying. During the afternoon of the final full day the boat returns to the harbour while guests relax and the dive equipment is cleaned & dried. After the final night on board, disembarkation is in the morning after breakfast. Guests are clear to fly immediately after disembarking the boat at 11.00am.
The itineraries below are the most-common for each trip, but these can sometimes be changed for a number of reasons. Small changes are made due to weather & sea conditions, special marine life sightings, overcrowded dive sites, local-authorities' instructions, and the needs & requests of the paying guests. The safety & comfort of all guests is most important at all times.
Facilites, Layout and Specifications
Facilities Available with Solitude Adventurer
Nitrox Available
En Suite Available
Air con
TV in Cabin
Dinghy
Courses Available
Free Pickup
WIFI
Lounge
All Cabins En Suite
AV Entertainment
Vegetarian Food Available
Double Beds Available
Family Cabin
Sundeck
Shaded Sundeck
Available to Charter
Solitude Adventurer Layout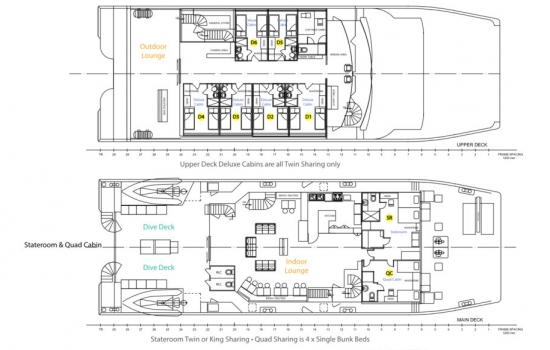 Solitude Adventurer Specifications
Built:
2000, Refurbished 2017.
Length:
36 Metres (171 ft).
Beam:
12 Metres (28 ft).
Draft:
1.5 metres (16.4 ft).
Engine:
2 x 1380 HP / 1015kW MTU
Cruising Speed:
10 Knots.
Fuel:
25,000L (6,604 US Gal).
Water:
6,000L (Storage) with On-board Water-Makercapable of producing 1500L of fresh water per day.
Electricity:
2x100kv 240V – 50Hz.
Navigation:
Local Navigation Maps with Furuno GPS Chart Plotter, Radar (Long/Short), Weather Plotter and Depth-Sounder.
Communication:
VHF/SB Radios, Fleet Broadband Satellite Phone and Internet, Inmarsat-C.
Safety:
GMDSS with EPIRB, AIS, Life Rafts, Emergency Survival Packs, Semi-Automated Fire Suppression Sprinkler System.
Entertainment:
In-Room and lounge play-on-demand Audio-Video system with Entertainment Library, Card and Board Games.
Compressors:
3x Bauer HP Compressor PE300 TE with Bauer B-Kool 680-s Air Cooler Filtered by P41 Centralized System.
Courses
If you would like or need to take part in a diving course during your cruise on Solitute Adventurer, it's vital to pre-book. Some courses are available for some of the itineraries, such as Nitrox EANx32. Due to the remote locations and sometimes-challenging dive sites, it's generally accepted that all guests join as arelady-certified and experienced divers who do not require training.
Contact us for more information about courses on Solitude Adventurer
Transfer details
Free scheduled transfers are offered from local hotels and the nearest airport. In some cases, these tranfers are at set times and with other guests.
After the trip, the team will transfer all guests to local hotels or the nearest airport.
Booking / Enquiry
Booking or enquiring is easy follow these steps
Step 1:
Complete the form below by entering your details
Step 2:
We usually reply within 2 hours (please check your email & spam)
Step 3:
We can reserve your space(s) commitment-free for up to one week
Step 4:
Deposits to book are usually paid using any card, PayPal or bank transfer