Sorry MV Blue Spirit we don't have trips for this boat at the moment.
These are some alternatives
M/V Blue Spirit is a traditional Maldives scuba diving liveaboard that specialises in offering the best itineraries and catering for small groups of divers. Taking no more than 12 guests, each trip is guaranteed to be personal and exclusive. The boat's unique range of itineraries enables divers to enjoy the central, northern and southern atolls, and the size and design of the boat enable it to go where larger vessels cannot.
Blue Spirit is 26 metres long and 7 metres wide, with a wooden hull. Its shallow draft enables it to enter and moor in lagoons that larger Maldives liveaboards cannot. Therefore, the views from its sundeck and nights on board are often unique. There are plenty of places on board for socialising with other guests or relaxing alone or in couples. These include shaded outdoor seating, in the sun, and in air-conditioned comfort.
The six guest cabins of MV Blue Spirit are located in the lower deck. There are two cabins with double beds, ideal for couples, and four cabins with two beds for solo guests, friends or siblings. All of the cabins have a private en suite bathroom with hot & cold freshwater showers, as well as air conditioning.
The main deck of Blue Spirit is home to the indoor & outdoor communal areas. There is a large air-conditioned lounge saloon that has plenty of comfortable seating with tables, plus an AV entertainment system for watching a DVD or showing your underwater video footage. Plenty of charging sockets and camera storage ensures that photographers are happy. It is possible to eat meals in the lounge saloon, but most guests choose the outdoor shaded dining area at the front of the main deck. Here you can enjoy the best views at the same time as the best food. The Sri Lankan chef has worked on the boat for nearly 20 years, and makes sure that every guest is full and content for every meal of every day! The rest of the team are experienced and service minded, from the boat boys to the captain, and from the kitchen staff to the dive guides. There is a real family atmosphere on board.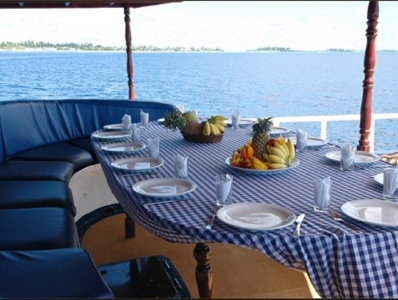 Like all liveaboards, there's a sundeck up top for those who want to top up a tan or gaze at the star-filled night skies. This sundeck also has a shaded area if things get too warm, and plenty of seating and sun loungers. Also, a traditional Maldives liveaboard feature is the dhoni. The dhoni is the support vessel from where all the diving is done. Instead of taking up space on the main boat and having wet gear drip all over the floors, Blue Spirit is followed by its diving dhoni which is where the gear is stored. This boat takes divers to the entry point for each dive and collects them afterwards.
But maybe the best thing about MV Blue Spirit is its itineraries. Unlike most other Maldives diving liveaboards that focus on the central atolls most of the year and only offer week-long cruises, Blue Spirit offers so much more. In addition to week-long trips, there's a choice of 10-night, 12-night and two-week long trips and even one that's 21 days & nights in length. Depending on the time of year and the departure and return ports, the trips explore the north, the south, the central atolls, and a combination of central & north or south.
Blue Spirit has a full complement of safety, communication and navigation facilities, as well as a Nitrox membrane. PADI courses can be completed on most cruises, and rental equipment is available as well. However, it's best to book and pay in advance in order to avoid local taxes and ensure the course material or gear is prepared in advance.
Prices & Schedule
MV Blue Spirit Diver Prices Overview 2023 / 2024
Destinations
Duration
Twin
Double
Boat Schedule and prices coming soon
Included In The Price
Transfers to & from the airport
Transfers to and from local hotels
Meals
Snacks
Tea / coffee
Drinking water
VAT
Weights & weightbelts
Standard tanks
Dive master services
Towels
Soap & Shampoo
Not Included In The Price
Dive equipment
National park fees
Dive computer
Alcoholic drinks
Dive insurance
Enviroment tax
Night diving torch
Larger tanks
Nitrox
Mask and Snorkel
Open-heel fins
Full-foot fins
Tips / Gratuities
View More Available Months
Itinerary
There are several itineraries on Blue Sprit. Boarding is usually in the afternoon, and some trips enable a check dive on the first day. Each itinerary is designed to allow guests to disembark and travel directly to the airport for their return flights. This is achieved with up to two dives on the final full day, and guests disembark the following morning.
The itineraries below are the most-common for each trip, but these can sometimes be changed for a number of reasons. Small changes are made due to weather & sea conditions, special marine life sightings, overcrowded dive sites, local-authorities' instructions, and the needs & requests of the paying guests. The safety & comfort of all guests is most important at all times.
Itineraries
Itinerary Name (click the itinerary name to open)
Days / Nights
Number of dives
Facilites, Layout and Specifications
Facilities Available with MV Blue Spirit
Nitrox Available
En Suite Available
Air con
Dinghy
Courses Available
Free Pickup
WIFI
Lounge
All Cabins En Suite
AV Entertainment
Vegetarian Food Available
Double Beds Available
Sundeck
Shaded Sundeck
Available to Charter
MV Blue Spirit Layout
MV Blue Spirit Specifications
Built/renovated:
2002
Hull:
Wood.
Length:
26 Metres.
Width:
7 Metres.
Entertainment:
In-cabin entertainment / DVD.
Engines:
1 x 350 HP Daewoo.
Generators:
2 x Onan 25/30 Kw.
Water Supply:
4 ton /day.
Communication:
Radio, VHF.
Safety:
First aid kit, emergency oxygen, life jackets, life rafts, Tag & Dive System, Tender Safety Boxes, Fire Fighting Equipment, AED, Engine Room Fire Control System, smoke detectors.
Dive Equipment:
Nitrox Membrane, Charging Station
Compressors:
3 x 3 x Bauer K14.
Courses
PADI diving courses are available on board Blue Spirit. Advanced Open Water Diver, Nitrox EANx, & Deep Diver are the most-common courses on each trip, but other specialities are available on request.
Contact us for more information about courses on MV Blue Spirit
Transfer details
The Blue Spirit team collect guests from the nearest airport for free on departure day. At the end of each trip the same transfers are available.
Booking / Enquiry
Booking or enquiring is easy follow these steps
Step 1:
Complete the form below by entering your details
Step 2:
We usually reply within 2 hours (please check your email & spam)
Step 3:
We can reserve your space(s) commitment-free for up to one week
Step 4:
Deposits to book are usually paid using any card, PayPal or bank transfer