Specials:
Nitrox & Park Fees included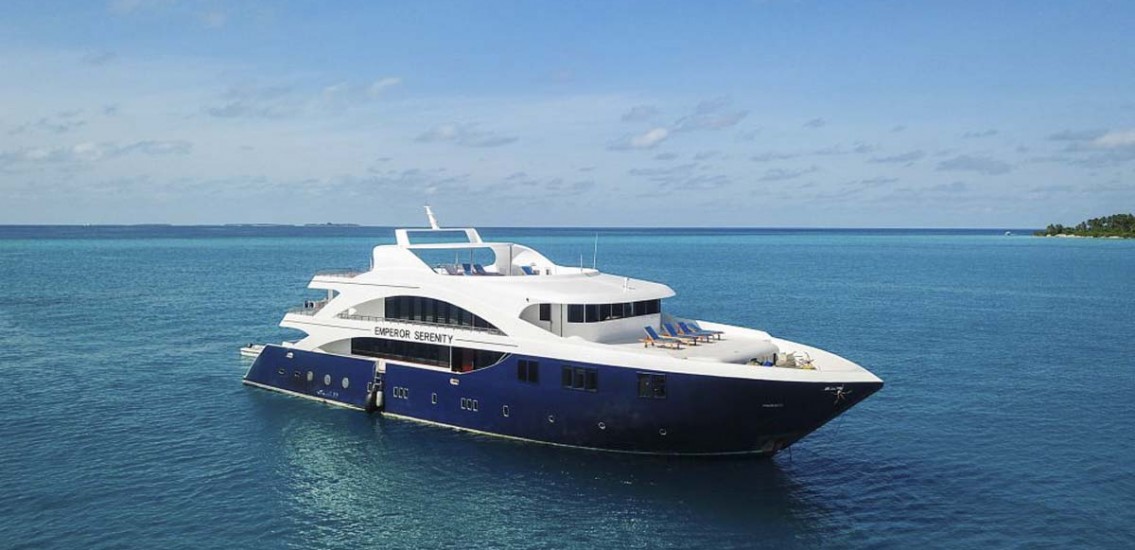 Maldives
Type: Liveaboard
Departs from: Male
No. of guests: 26
Read all MV Emperor Serenity reviews
Prices from:
2,590
USD
Emperor Serenity is a brand-new (2016) large Maldives diving Liveaboard vessel purpose built to meet the demands of discerning guests who want to enjoy luxurious Maldives diving cruises. The boat is 40 metres long and has several decks for accommodation, communal dining & relaxing in groups or in private. To maximise space and comfort on board and to enable scuba divers to be dropped off and picked up efficiently at exact locations. Diving is done from the 20 metre tender, known locally as a 'dhoni'.
There are 13 air-conditioned en-suite twin & double cabins on three decks. 8 cabins are on the liveaboard boat's lower deck and each is wonderfully appointed and comfortable. On the main deck there are two large cabins at the front of the ship, both with double beds and a single. In the middle of the main deck is the large air-conditioned saloon with a bar, which is perfect for enjoying social time and maybe a drink or two at the end of the day. At the rear of the main deck is a large and comfortable open-air dining area. On the upper deck there are three more cabins (2 large double & 1 twin) and a spacious lounge, where the home entertainment system can be used to view the day's photographs or underwater videos. On top of the boat is a huge sundeck that can be enjoyed throughout the day for sunbathing and for stargazing at night.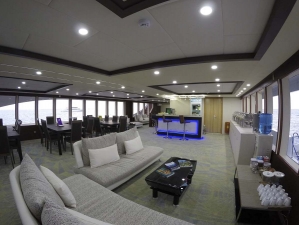 Emperor Serenity dives all year round at the Maldives' best scuba diving sites, alternating areas to make the most of the weather & sea conditions and the marine life. The two main itineraries are 'Best of Maldives' and 'Manta Madness' and are in general 8D/7N & 17-18 dives. Some longer trips are also available and can be seen on the schedule. The experienced and professional dive guides ensure that every dive is safe and enjoyable, and ideally suited to the guests' level, experience and expectations. They speak English and know the seas, the liveaboad boat, and the resident & migratory marine life.
On board the Liveaboard, the crew take great care of guests' every need. Housekeeping services ensure the cabins are always clean and welcoming. The chefs & waiting staff provide & serve sumptuous meals throughout the day that will satisfy every taste and appetite. The food on board Emperor Serenity is a perfect mixture of local and western cuisine. This Maldives diving liveaboard is a cut above nearly all others at the Maldives, and certainly anything in the same price range. Booking early is recommended.
Prices & Schedule
MV Emperor Serenity Diver Prices Overview 2023 / 2024
Destinations
Duration
Standard Twin
Standard Double
Upper-Deck Twin
Main-Deck Suite
Upper-Deck Suite

( 17 Dives)

7D / 7N
Standard Twin

2,700

USD
Standard Double

2,535

USD
Upper-Deck Twin

2,897

USD
Main-Deck Suite

3,067

USD
Upper-Deck Suite

3,139

USD

( 26 Dives)

10D / 10N
Standard Twin

3,676

USD
Standard Double

3,441

USD
Upper-Deck Twin

3,956

USD
Main-Deck Suite

4,044

USD
Upper-Deck Suite

4,148

USD
MV Emperor Serenity Special Offers Coming Up

Black Friday discount plus Free Nitrox and park fees

We have lots of discounts for this boat. Please see schedule for details

Free Nitrox and park fees

We have lots of discounts for this boat. Please see schedule for details
Included In The Price
VAT
View More Available Months
Itinerary
The itineraries below are the most-common for each trip, but these can sometimes be changed for a number of reasons. Small changes are made due to weather & sea conditions, special marine life sightings, overcrowded dive sites, local-authorities' instructions, and the needs & requests of the paying guests. The safety & comfort of all guests is most important at all times.
Facilites, Layout and Specifications
Facilities Available with MV Emperor Serenity
Nitrox Available
En Suite Available
Air con
Dinghy
Courses Available
Free Pickup
WIFI
Lounge
All Cabins En Suite
AV Entertainment
Vegetarian Food Available
Double Beds Available
Sundeck
Shaded Sundeck
Available to Charter
MV Emperor Serenity Layout

Sun Deck

Upper deck

Main Deck

Cabin Deck (Lower Deck)
MV Emperor Serenity Specifications
Type:
Wooden hull.
Length:
40 Metres.
Beam:
13 Metres.
Year built:
2016.
Water Makers:
12 Tonnes/24h RO Plant.
Engine:
600 HP Doosan Daewoo.
Safety:
Oxygen, Medic First Aid Kit,

Life jackets & life rafts

Compressors:
Yes and Nitrox.
Instrumentation:
VHF radio, GPS chart plotter, Telephone, Mobile.
Camera facilities:
Charging stations, air gun, rinse tanks & camera table.
Cabins:

Upper deck: 2 x Double with single bed; 1 x Twin.
Main deck: 2 x Double with single bed.
Lower deck: 5 x Double with single bed; 3 x Double.

Sundeck:
Deckchairs, bean bags.
Courses
Maldives diving courses are available upon request, but need to be pre-booked so that the staff can prepare. This also applies to rental equipment, which is cheaper to rent if pre booked. Please note that the use of SMBs and dive computers is compulsory on all of the Emperor divers Maldives fleet. This ensures that safety is paramount at all times. Certified divers of all levels are welcome. Those with less experience can enjoy the special care of the experienced dive guides. Nitrox fills are free for certified divers, and the liveaboard boat is set up to serve divers with rebreather equipment from certain brands. Please contact us well in advance, though.
Courses
Courses
Prices

PADI:

Adventurer Dives - Deep, Drift, Night & Wreck

81

USD

Pre-Booked

PADI:

Discover Scuba Diving

Including: Equipment Included

95

USD

Pre-Booked

PADI:

Nitrox Diver

Dive computer rental, camera rental and torch rental not included. Courses do not include materials, certification fees or equipment.

157

USD

Pre-Booked

PADI:

Deep Diver

222

USD

Pre-Booked

PADI:

UW Photography

Dive computer rental, camera rental and torch rental not included. Courses do not include materials, certification fees or equipment.

222

USD

Pre-Booked

PADI:

Drift Diver

252

USD

Pre-Booked

PADI:

Boat Diver

252

USD

Pre-Booked

PADI:

Open Water Diver Referral

293

USD

Pre-Booked

PADI:

Advanced Adventurer/Advanced Open Water

(5 Dives)

318

USD

Pre-Booked
Transfer details
There are free transfers from and back to Male International Airport at the beginning and end of each cruise. These are scheduled transfers, at set times. However, there are three pick up times (11.00am, 4.00pm and 10.30pm) and two check out times (7.00am & 9.00am). The liveaboard boat is moored very near to the airport and the drive is usually no more than 10-15 minutes. Guests staying at a local hotel before or after their Emperor Divers cruise need to visit the airport to join the transfers. Those who need to be collected at a time outside the schedule can contact us or the team to arrange inexpensive private transfers.
Booking / Enquiry
Booking or enquiring is easy follow these steps
Step 1:
Complete the form below by entering your details
Step 2:
We usually reply within 2 hours (please check your email & spam)
Step 3:
We can reserve your space(s) commitment-free for up to one week
Step 4:
Deposits to book are usually paid using any card, PayPal or bank transfer
MV Emperor Serenity Reviews
Read real reviews from people who have dived with MV Emperor Serenity
We had a great time on Serenity. The boat and the dhoni were very comfortable, the crew was very friendly and service was impeccable, and the food was delicious!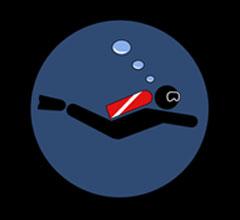 Great diving with whale sharks and mantas in abundance. Staff excellent and we were well looked after from start to finish. Meals were very good with plenty of variety. COVID testing efficiently done for travel home.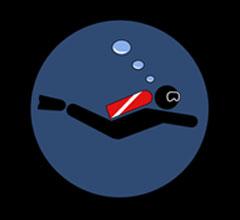 Excellent trip. Fab food, great diving buddies and excellent crew. Couldn't fault it! Highly recommend.