Specials:
Nitrox & Park Fees included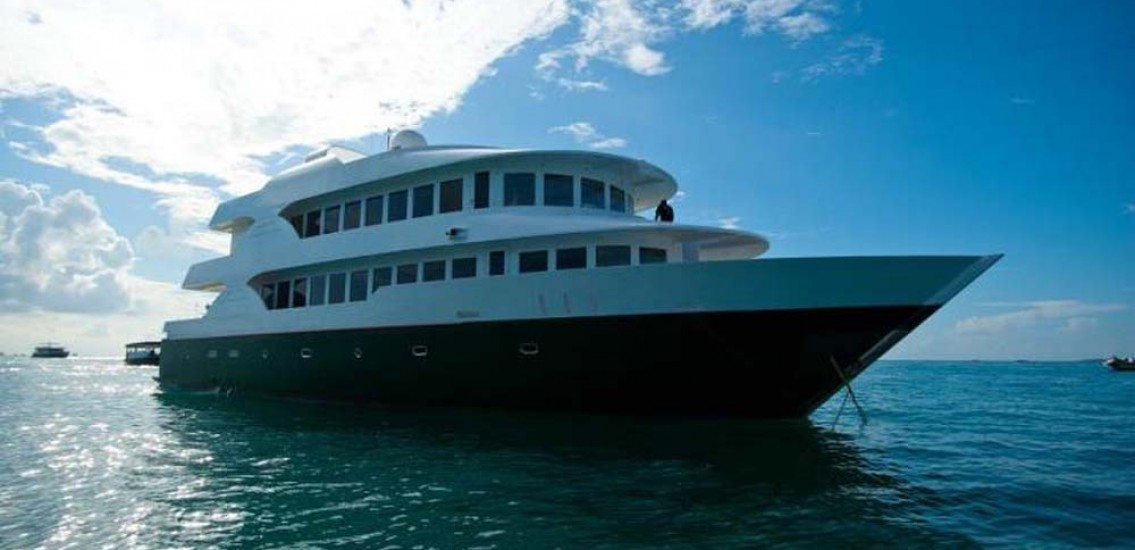 Maldives
Type: Liveaboard
Departs from: Gan, Addu / Male
No. of guests: 18
Prices from:
2,241
USD
Emperor Virgo is a large and luxurious liveaboard diving Maldives yacht that sails around The Maldives all year. Built in 2012, it is 32 metres in length and takes no more than 18 diving guests in twin or double bed air-conditioned cabins with private en suite bathrooms. The boat was designed and built specifically for Maldives diving cruises but maximises space by using a large tender boat (known locally as a 'dhoni') to store equipment and transport guests to each dive spot. Maldives diving trips are normally one week long and visit the very best dive areas of the Maldives at any given time of year. Emperor Virgo is one of the most popular Maldives diving liveaboards due to its perfect balance of comfort and cost. Safety and service are second to none, and Nitrox fills are free.
There are three main decks on Emperor Virgo. 5 guest cabins are on the lower deck, and the main and upper decks have two cabins each. The upper deck cabins have huge windows allowing guests to enjoy the beautiful views around the Maldives archipelago. The décor and materials used around the boat are elegant and practical, ensuring that divers can move around the ship easily and enjoy fine dining and evening drinks in luxury. Like most of our Maldives liveaboard diving boats, there is an air-conditioned saloon/lounge that is ideal for enjoying a movie or showing the day's underwater video or photographs. Guests are always able to find somewhere to sit in privacy or comfortably in a group. Wi-Fi is available when in range, at a small extra cost. Delicious food is served every day, and the internationally-stocked bar should appease all tastes.
To ensure that divers are dropped off and picked up efficiently and to maximise space on the ship, Emperor Virgo has a large tender boat for Maldives diving activities. Nitrox fills are free for certified divers, and those who have rebreather equipment can dive too. PADI & SSI diving courses are available, and better when booked in advance.
All in all, when taking into account the price for the luxury, service, trip length and some of best dives Maldives has to offer, there is very little to beat Emperor Virgo for the best luxury liveaboard Maldives cruises.
Prices & Schedule
MV Emperor Virgo Diver Prices Overview 2023 / 2024
Destinations
Duration
Lower Deck Twin/Double
Main Deck Twin/Double
Upper Deck Twin/Double

( 17 Dives)

7D / 7N
Lower Deck Twin/Double

2,295

USD
Main Deck Twin/Double

2,569

USD
Upper Deck Twin/Double

2,602

USD

( 18 Dives)

7D / 7N
Lower Deck Twin/Double

2,712

USD
Main Deck Twin/Double

2,986

USD
Upper Deck Twin/Double

3,019

USD

( 26 Dives)

10D / 10N
Lower Deck Twin/Double

3,391

USD
Main Deck Twin/Double

3,780

USD
Upper Deck Twin/Double

3,829

USD

( 34 Dives)

14D / 14N
Lower Deck Twin/Double

4,553

USD
Main Deck Twin/Double

5,024

USD
Upper Deck Twin/Double

5,079

USD
MV Emperor Virgo Special Offers Coming Up

BIG discount Free Nitrox and park fees

We have lots of discounts for this boat. Please see schedule for details

Free Nitrox and park fees

We have lots of discounts for this boat. Please see schedule for details
Included In The Price
VAT
View More Available Months
Itinerary
Emperor Virgo sails throughout the year, but occasionally has a month or two break for dry-dock refurbishments. Most trips depart from and return to Male, at a port just 10 minutes' drive from the international airport.
Depending on the time of year, the best diving Maldives sites are chosen to ensure the maximum diving enjoyment throughout each cruise. The most common itinerary is known simply as 'The Best of The Maldives' 8D/7N which visits North Male, South Male, and Ari Atoll. These trips are suitable for all levels of diver. In January to April, Emperor Virgo also offers trips with itineraries named 'Sharktastic,' 'South Central 7 Atolls' & 'Deep South & Southern Sharks.' Most trips are 8D/7N with 6 diving days and up to 17 dives.
Sharktastic trips are a little south of Male and visit 4 atolls.
South Central cruises begin at North Male and go as far down as Laamu Atoll.
The Deep South itinerary includes a short flight to (or back from) Huvadhoo at the start (or end) of the cruise. These trips are better suited to more experienced divers.
The itineraries below are the most-common for each trip, but these can sometimes be changed for a number of reasons. Small changes are made due to weather & sea conditions, special marine life sightings, overcrowded dive sites, local-authorities' instructions, and the needs & requests of the paying guests. The safety & comfort of all guests is most important at all times.
Facilites, Layout and Specifications
Facilities Available with MV Emperor Virgo
Nitrox Available
En Suite Available
Air con
TV in Cabin
Dinghy
Courses Available
Free Pickup
Suitable for Children
WIFI
Lounge
All Cabins En Suite
AV Entertainment
Vegetarian Food Available
Double Beds Available
Sundeck
Shaded Sundeck
Available to Charter
MV Emperor Virgo Specifications
Type:
Wooden hull.
Length:
32 Metres.
Beam:
9.1 Metres.
Dhoni:
Large diving dhoni, fully equipped with compressors, tanks & oxygen kits.
Water Makers:
9500 L / per day.
Engine:
600 HP Caterpillar.
Safety:
Oxygen, Medic First Aid Kit,

Life jackets & life rafts

Compressors:
2 x Coltri and Nitrox.
Instrumentation:
VHF radio, GPS chart plotter, Telephone, Mobile.
Camera facilities:
Charging stations, air gun, rinse tanks & camera table.
Cabins:

Upper deck: 2 double/twin.
Main deck: 2 double/twin.
Lower deck: 5 double/twin (1 available as a triple with a small single bed).

Ensuite, DVD, hair dryer and air con.
Sundeck:
Loungers.
Courses
There is a wide range of diving courses available while diving the Maldives on Emperor Virgo, covering a variety of levels and specialities. It is important to let us know well in advance if you would like to take part in a course on the cruise so that the team can prepare the staff and materials.
Courses
Courses
Prices

PADI:

Adventurer Dives - Deep, Drift, Night & Wreck

81

USD

Pre-Booked

PADI:

Discover Scuba Diving

Including: Equipment Included

95

USD

Pre-Booked

PADI:

Nitrox Diver

Dive computer rental, camera rental and torch rental not included. Courses do not include materials, certification fees or equipment.

157

USD

Pre-Booked

PADI:

Deep Diver

221

USD

Pre-Booked

PADI:

UW Photography

Dive computer rental, camera rental and torch rental not included. Courses do not include materials, certification fees or equipment.

221

USD

Pre-Booked

PADI:

Drift Diver

252

USD

Pre-Booked

PADI:

Boat Diver

252

USD

Pre-Booked

PADI:

Open Water Diver Referral

293

USD

Pre-Booked

PADI:

Advanced Adventurer/Advanced Open Water

(5 Dives)

318

USD

Pre-Booked
Transfer details
There are free transfers from and back to Male International Airport at the beginning and end of each cruise. These are scheduled transfers, at set times. However, there are three pick up times (11.00am, 4.00pm and 10.30pm) and two check out times (7.00am & 9.00am). The boat is moored very near to the airport and the drive is usually no more than 10-15 minutes. Guests staying at a local hotel before or after their Emperor cruise need to visit the airport to join the transfers. Those who need to be collected at a time outside the schedule can contact us or the team to arrange inexpensive private transfers.
Booking / Enquiry
Booking or enquiring is easy follow these steps
Step 1:
Complete the form below by entering your details
Step 2:
We usually reply within 2 hours (please check your email & spam)
Step 3:
We can reserve your space(s) commitment-free for up to one week
Step 4:
Deposits to book are usually paid using any card, PayPal or bank transfer