Sorry MV Manta Queen 6 we don't have trips for this boat at the moment.
These are some alternatives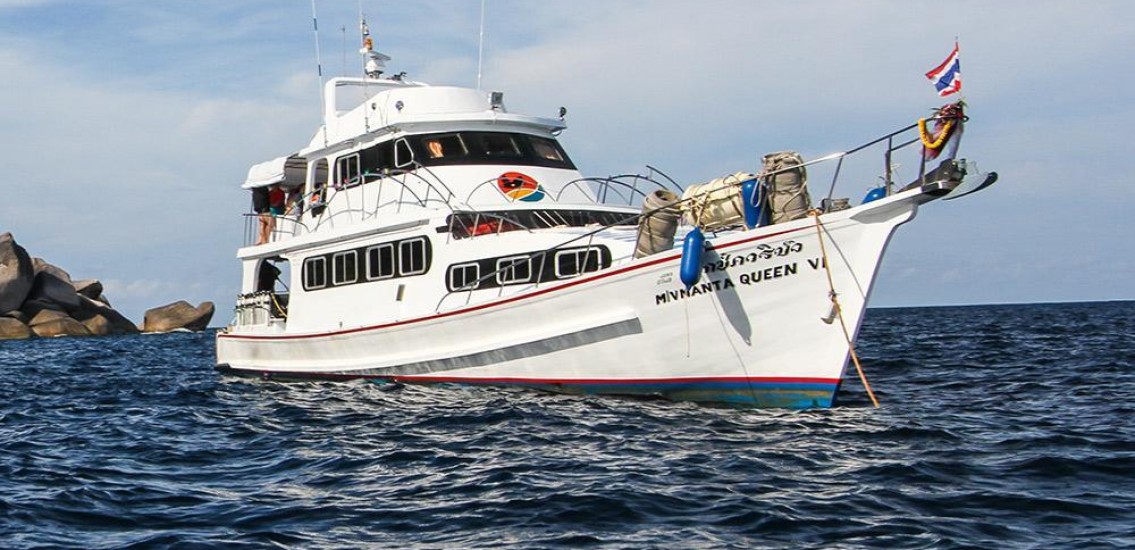 Thailand
Type: Liveaboard
No. of guests: 14
Read all MV Manta Queen 6 reviews
Similan Islands liveaboard diving boats come in different sizes, and with various levels of comfort at a range of prices. Manta Queen 6 ticks nearly all the right boxes for those who want Similan & Richelieu Rock diving safaris. The trips are competitively priced, the cabins are ideal for solo travelers, friends and even couples, and all are air-conditioned and have en suite* bathroom facilities. With no more than 14 guests on each trip, this 25-metre boat has space for all on board. There is also free Wi-Fi at the start and end of the cruise (due to it relying on the cellular signal).
Manta Queen 6 is of average size of Similan diving boats, but taking just 14 guests in 7 cabins means that there is more space for each person to socialize in groups or find somewhere to chill alone. The boat has a wooden monohull, and all the safety and diving features necessary for all levels of scuba diver. This includes Nitrox.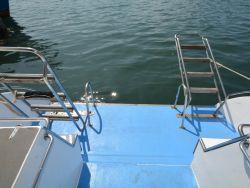 On top great-value, luxury diving cruises to Thailand's best dive sites, Manta Queen 6 also offers free pick up and drop off from local hotels and resorts. Like all our other Similan liveaboard dive boats, Divemaster guides, weights & belts, and 12 litre air tanks are included in the prices, as are all meals, snacks, fruits, tea & coffee, and drinking water. In contrast to most other 4D/4N diving cruises, those aboard Manta Queen 6 can enjoy an extra dive on the final day. Most of the 4D/4N cruises have 14 dives, but on Manta Queen 6, there are 15. Please be aware that you may see Manta Queen 6's trips elsewhere on the internet to be 5D/4N (five days & four nights). This is untrue and misleading. Although the trips do span five calendar dates, your first day is an evening departure with no diving and just a light meal. We prefer to only count/show diving days, and so do all honest agents.
All in all, this is a wonderful boat that offers excellent-value trips. The small group of divers on board enjoy sociable surface intervals and evenings under starlit nights, as well as 15 dives at the best diving sites in Thailand.
*Please note that Manta Queen 6's cabins are technically 'en suite' because there is just one door between bedroom and bathroom, but in fact two cabins share each bathroom, which is located in between the cabins.
Prices & Schedule
MV Manta Queen 6 Diver Prices Overview 2023 / 2024
Destinations
Duration
Twin En Suite
Boat Schedule and prices coming soon
Included In The Price
Transfers to and from local hotels
Meals
Snacks
Tea / coffee
Drinking water
Night diving torch
Weights & weightbelts
Standard tanks
Dive master services
Mask and Snorkel
Full-foot fins
Towels
Soap & Shampoo
Luggage storage
Not Included In The Price
Transfers to & from the airport
Dive equipment
National park fees
Dive computer
Soft drinks
Alcoholic drinks
Dive insurance
VAT
Larger tanks
Nitrox
Open-heel fins
Tips / Gratuities
View More Available Months
Itinerary
Manta Queen 6 departs in the evening, and a light meal is served on board. Diving begins the following morning.
At the end of the trip, everyone is brought back to the dive centre, then taken to hotels in the area.
Do not believe other websites that show the trips to be 5D/4N, because they are not. With an evening departure and the return less than 96 hours later, these trips are 4D/4N.
Click below for more details of the itinerary.
Facilites, Layout and Specifications
Facilities Available with MV Manta Queen 6
Nitrox Available
En Suite Available
Air con
Dinghy
Courses Available
Free Pickup
Suitable for Children
WIFI
Lounge
All Cabins En Suite
AV Entertainment
Vegetarian Food Available
Sundeck
Shaded Sundeck
Available to Charter
Beach Transfers
MV Manta Queen 6 Layout
1:
Twin Bunk En-Suite Cabin
MV Manta Queen 6 Specifications
Length.
25 metres.
Width.
5 metres.
Hull.
Wooden.
Engines.
2x Hino 450 HP 10 Cylinder.
Generators.
1x 40 KW 1x 50 KW.
Speed.
8-9 knots.
Navigation.
GPS satellite navigation, sonar, compass.
Safety.
VHF radio, emergency oxygen unit, liferaft, life-jackets/rings, first aid kit, satellite phones.
Courses
There is a wide choice of PADI diving courses that you can take on Manta Queen 6, including advanced & speciality. Most can be chosen on board but it is always better to pre-book. Taking part in a PADI diving course while on a liveaboard trip is a great idea. Take a look at the PADI courses listed below, and contact us at any time with enquiries.
Contact us for more information about courses on MV Manta Queen 6
Transfer details
The Manta Queen fleet use several minivans to collect divers from hotels and the airport. Each minivan is pre-booked to have a set route, times and guests.
Guests staying in and around Khao Lak can take advantage of free scheduled transfers on departure day (4.00-4.30pm).
Manta Queen 6's Phuket transfers are available for 321 THB / way. The scheduled pick ups times are 11.30am-3.30pm, depending on the location of the hotel.
Pick ups from Phuket Airport are 3.00-3.30pm.
Everyone is first taken to the PADI dive centre to fill out a little paperwork, make final payments, and try on any rental equipment.
At the end of the trip, everyone is brought back to the dive centre, before being transferred to their chosen hotel.
Guests who are unable to meet the scheduled pick ups or would like private transportation are welcome to contact us to arrange a private taxi at the most competitive rates.
Booking / Enquiry
Booking or enquiring is easy follow these steps
Step 1:
Complete the form below by entering your details
Step 2:
We usually reply within 2 hours (please check your email & spam)
Step 3:
We can reserve your space(s) commitment-free for up to one week
Step 4:
Deposits to book are usually paid using any card, PayPal or bank transfer
MV Manta Queen 6 Reviews
Read real reviews from people who have dived with MV Manta Queen 6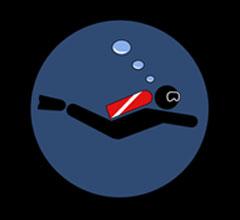 The rooms and bathroom are a bit smaller than I expected. Other than that, it's perfect live aboard experience. Very nice and helpful boat crews. Dive instructors are very professional and informative.