Sorry MV Sanuk 3 we don't have trips for this boat at the moment.
These are some alternatives
MV Sanuk 3 has just undergone extensive renovations and starts offering liveaboard cruises from late January 2015. Now there are three cabin types to suit a variety of tastes at the budget to mid-range level for diving safaris ain southern Thailand.
At 21 metres in length, MV Sanuk 3 is comparable to the medium-sized and smaller liveaboard boats, but with so few guests on board, there's plenty of space for everyone, and actually more (per diver) than on many other boats.
There are two decks on MV Sanuk 3, plus the roof, where guests can sunbathe or stargaze, or enjoy shaded protection with a sea breeze. The accommodation is on the main deck, where there is also the dive platform, designed to ensure safe and convenient, moving around, entries & exits.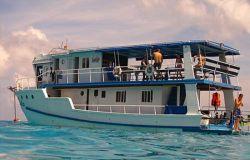 Sanuk 3 has a master cabin, with en suite bathroom and an extra single bed in addition to its double. There are four air-conditioned twin-bunk 'Comfort Cabins' and one unbeatable-value 'Standard Cabin.' There really is something for everyone, and the delicious food and service from the boat staff and crew are far from 'budget.'
Sanuk mainly offers liveaboard trips to Koh Haa, Hin Daeng and Phi Phi in southern Thailand. Take a look at the schedule & prices to see when is the most convenient time to dive from one of the best-value boats at some of Thailand's best diving areas.
Prices & Schedule
View More Available Months
Itinerary
Facilites, Layout and Specifications
Facilities Available with MV Sanuk 3
En Suite Available
Air con
Dinghy
Courses Available
Free Pickup
Suitable for Children
AV Entertainment
Vegetarian Food Available
Double Beds Available
Sundeck
Shaded Sundeck
Available to Charter
MV Sanuk 3 Layout

Half & Party Deck

Upper Deck

A:
Ensuite Master Cabin.
I:
Galley.
B:
Comfort twin Cabins.
J:
Staff quarters.
C:
Private bathrooms for B cabins.
K:
Catering & entertainment.
D:
Staff bathroom.
L/M:
Dining & relaxation areas.
E:
Dive deck.
N:
Stairs.
F:
Watersports platform.
O:
Sun decks.
G:
Engine room entrance.
P:
Sunshade / Canvas.
H:
Wheel House and Captain's Cabin.
Courses
A good selection of diving courses is available aboard MV Sanuk 3. Taking a diving course while enjoying a diving safari is both a great idea and experience. Divers become immersed in the environment around them, and do not suffer from distractions such as late nights out or other non-diving activities. In addition, the prices are normally considerably cheaper than taking the course on day trips, while based on land. Please contact us for a personalized quotation for the dive course you are interested in taking on MV Sanuk 3.
Contact us for more information about courses on MV Sanuk 3
Transfer details
Guests who are unable to meet the scheduled pick ups or would like private transportation are welcome to contact us to arrange a private taxi at the most competitive rates.
Booking / Enquiry
Booking or enquiring is easy follow these steps
Step 1:
Complete the form below by entering your details
Step 2:
We usually reply within 2 hours (please check your email & spam)
Step 3:
We can reserve your space(s) commitment-free for up to one week
Step 4:
Deposits to book are usually paid using any card, PayPal or bank transfer