Sorry Whale (Phuket) we don't have trips for this boat at the moment.
These are some alternatives
Whale (Phuket) has undergone a complete renovation for 2018, and is now like a brand-new boat. Under its new ownership, the boat is running trips to the best dive sites in Thailand throughout most of the year. Up to twelve lucky guests can enjoy the comfort of six air-conditioned twin cabins.
At 20 metres long and 5 metres wide, Whale (Phuket) is an ideal size for safe & comfortable diving safaris for its limited number of lucky guests. There's an air-conditioned lounge saloon with a large tv and several areas out on deck to relax alone, in couples or with friends. All cabins have air-conditioning, storage, a window & mirror. The guests share three bathrooms at the rear of the boat. There's a motorized dinghy to retrieve surfacing divers and to take you to the beaches. A full set of safety & navigation equipment is also on board. The dive platform at the rear of Whale (Phuket) is well planned & large enough to enable everyone to gear up and step into the crystal-clear warm waters of the Andaman Sea.
Whale (Phuket) has two different itineraries during the high season. One goes to Similan Islands, Koh Bon, Koh Tachai & Richelieu Rock, and the other visits Hin Daeng, Hin Muang, Koh Haa, Phi Phi & Koh Lipe. Unlike most other liveaboard itineraries at this price, Whale (Phuket) gives you an extra night on board. Instead of finishing in the afternoon of the fourth & final day, you stay on board for an extra dive, dinner & one more night in your comfortable cabin. Then you disembark the following morning. Most four-day liveaboard trips in Thailand are four nights and 14 dives, but on Whale (Phuket) you get four days, five nights and 15 dives!
The delicious food is prepared by expert cooks who know that diving is hungry work. Meals are served buffet style throughout the cruise, including dinner on the first evening and breakfast on the final morning. Vegan, vegetarian and other dietary requests can be catered for, but please let us know in advance.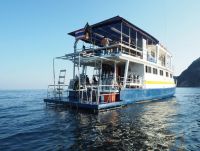 During the Similan low season, trips are three diving days & four nights, and they sail to Phi Phi and around Phuket's best dive spots. Although Phuket dive sites get lots of divers during the day, it's very different on a liveaboard diving trip. Not only can the day dives be timed to miss the day trips', you get to dive very early in the morning and at night, when there's almost nobody else there.
Finally, it's important to note that Whale (Phuket) trips are guaranteed! While most other liveaboards require 40% or more of the boat to be full before they can confirm departure, Whale (Phuket) will sail with just one or two guests on board. This is very useful if you want to book early for the discount and be sure that your trip will happen, even if no one else joins.
Prices & Schedule
Whale (Phuket) Diver Prices Overview 2023 / 2024
Destinations
Duration
Standard Twin
Boat Schedule and prices coming soon
Included In The Price
Transfers to & from the airport
Transfers to and from local hotels
Meals
Snacks
Tea / coffee
Drinking water
Weights & weightbelts
Standard tanks
Dive master services
Towels
Soap & Shampoo
Luggage storage
Not Included In The Price
Dive equipment
National park fees
Dive computer
Alcoholic drinks
Dive insurance
Larger tanks
Mask and Snorkel
Open-heel fins
Full-foot fins
Tips / Gratuities
View More Available Months
Itinerary
Whale (Phuket) has three different itineraries, so please check carefully from the list below to ensure that you're looking at the itinerary for your chosen/preferred dates. All trips have an evening departure, and you disembark in the morning on the final day. Trips usually depart from and return to a pier in southern Phuket.
Trips between October and May are four full diving days & five nights. Phi Phi trips from May to September are three full diving days & four nights.
Please note that the 4D/5N southern trips plan to go to Koh Lipe if the conditions allow and guests would like to. This is a special area that no other diving liveaboard boats currently go to.
Facilites, Layout and Specifications
Facilities Available with Whale (Phuket)
Nitrox Available
Air con
Dinghy
Courses Available
Free Pickup
Lounge
AV Entertainment
Vegetarian Food Available
Sundeck
Shaded Sundeck
Available to Charter
Beach Transfers
Whale (Phuket) Specifications
Length:
20 metres / 66 ft.
Beam:
5 metres / 17 ft.
Cruising speed:
8 knots.
Courses
Some diving courses are available on Whale (Phuket) but please check first. The most-common courses on our liveaboard diving trips are the Advanced Open Water Diver course and Nitrox EAN 32. For some liveaboard trips it's possible to learn to dive, but this requires two days on land first.
Contact us for more information about courses on Whale (Phuket)
Transfer details
There are free transfers from around Phuket on departure day in the afternoon. These transfers are shared with other guests and at set times to coincide with the departure of the boat.
At the end of the trip there are free transfers available directly from the boat to locations around Phuket.
Guests who are unable to meet the scheduled pick ups or would like private transportation are welcome to contact us to arrange a private taxi at the most competitive rates.
Booking / Enquiry
Booking or enquiring is easy follow these steps
Step 1:
Complete the form below by entering your details
Step 2:
We usually reply within 2 hours (please check your email & spam)
Step 3:
We can reserve your space(s) commitment-free for up to one week
Step 4:
Deposits to book are usually paid using any card, PayPal or bank transfer