Most of our Similan liveaboard diving trips are regular scheduled trips that have fixed start & finish dates, but our most-popular boats offer you something different. Flexible liveaboards let you choose which day you join, and for how long you stay. They are popular for two reasons. These are the that you can choose which date you want to join, and because for many people two days & one night is the ideal trip length. You may already know something about flexible trips, but still have a few questions. This page has all you need to know.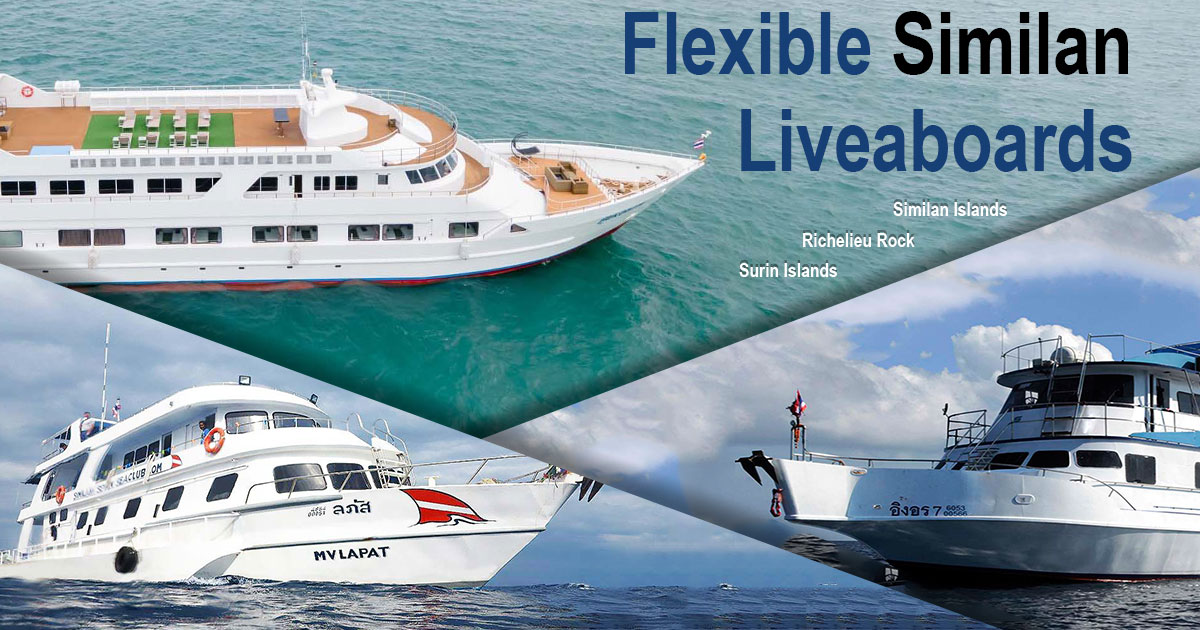 What's a flexible liveaboard?
A flexible liveaboard is a boat that stays out at sea for long periods, and guests join by speedboat transfer. They're also known as platform boats, but we feel this is misleading because they do not stay in one place. They move around so that you can enjoy dives at different places. Your trip starts in the morning of your first day with a free transfer from your hotel in Khao Lak. Then you join the speedboat journey that is usually 1-1.5 hours. You arrive on the main boat, and soon after a quick briefing, setting up gear, and maybe a light breakfast, you start diving. On your first day you dive three times. You do not sail back to the land every night. If you book 2D/1N you sleep on the boat for one night, and if you book 3D/2N you sleep on the boat for two nights. If you're on board for three days, you dive four times per day on the middle day. On the final day of your trip you dive three times, before returning to Khao Lak. The speedboat back to land leaves the main boat at around 3.30pm and you're back in Khao Lak in time for dinner.
What's the difference between a flexible & scheduled trip?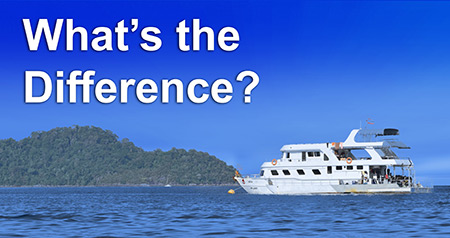 There is no difference in the boats. The only difference is the logistics of the trips. This page explains in more detail the differences between the two types of Similan liveaboard trips. But here's a quick summary.
Scheduled trips have fixed start & finish dates, but on a flexible, you can join on any day.
Other divers in your group & your guide may change during a flexible trip.
Flexible trips use speedboats to transfer guests, equipment, food & fuel to the main ship.
Most scheduled trips start in the evening and sail slowly through the night.
If you're coming from Phuket, Ao Nang or Krabi you can't join a flexible trip on the same day, but you can join a scheduled trip.
Which liveaboard boats have flexible trips?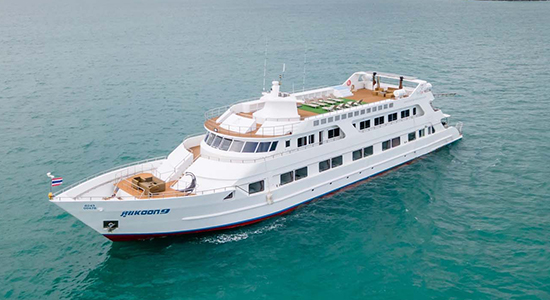 Koon 9 is a huge boat, and the largest Similan liveaboard. At a giant 52 metres long, all guest cabins have a private bathroom, plus there are lots of communal bathrooms. Also, you can join on any day of the week, and stay for as long as you choose. Large & luxurious.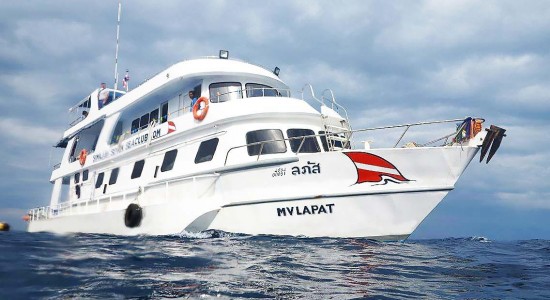 MV Lapat offers flexible trips that visit all the best dive sites. Because it goes to Richelieu Rock it's our most-popular boat. There are six twin-bunk cabins that share bathrooms and two double cabins that have private bathrooms.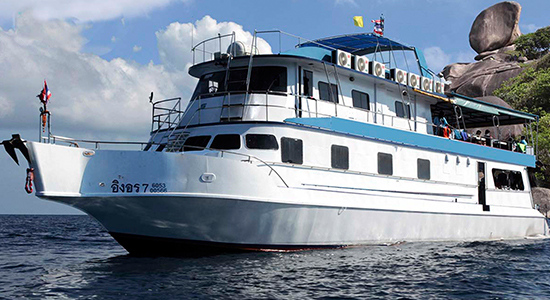 MV Similan Quest is the best-value flexible liveaboard due to its unbeatable prices. The boat has twin & double cabins. It stays at The Similans for five days per week and goes to Koh Bon on Thursdays & Sundays. You can choose to do a night dive instead of a sunset dive on Similan Quest.
There are three Similan Islands diving liveaboards that offer flexible trips. These are MV Lapat & MV Similan Quest. There are also one or two other boats which run scheduled trips but you can sometimes join for the first or second half of their cruises.
How long are flexible liveaboard trips?
The most common length of flexible trips is 2 Days / 1 Night but 3 Days / 2 Nights is also very popular. Some people stay for four days & three nights or longer.
2 Day / 1 Night trips give you 6 dives, three each day. On your first day you dive mid-morning, after lunch, and in the evening. On your second day, you dive early morning, mid-morning and after lunch.
3 Day / 2 Night trips give you 10 dives, 3+4+3. The first and final days are the same as the 2 Day / 1 Night trips, but on your middle day, you dive four times, including early morning and evening.
4 Day / 3 Night trips give you 14 dives, 3+4+4+3.
Where do flexible liveaboards dive?
The map shows the places where they dive and the routes taken by each boat
They move around on a weekly schedule, and on most days you go to a different place for every dive. Some people call them 'platform boats' but this is misleading because they are not moored in one place. All of our flexible boats have their own weekly schedules. Some focus on the northern dive sites and others spend more time around The Similan Islands. All of them visit Koh Bon at least once a week.
| | Koon9 | Lapat | Similan Quest |
| --- | --- | --- | --- |
| Mondays | Surin Islands | Central Similans | Similan Islands #8 #9 |
| Tuesdays | Surin Islands, Koh Tachai | Northern Similans (back to refuel in the night) | Similan Islands #7 |
| Wednesdays | | Koh Bon | Similan Islands #4 |
| Thursdays | Similan Islands | Koh Tachai | Koh Bon |
| Fridays | Similan Islands | Surin Islands | Similan Islands #5 #7 |
| Saturdays | Koh Bon, Koh Tachai | Richelieu Rock | Similan Islands #8 #9 |
| Sundays | Richelieu Rock | Koh Bon | Koh Bon |
Depending on the day of the week, each boat visits different dive sites. Some days two or three dives are at the same place, but this is for good reason (see here ). Around The Similan Islands, the boats visit up to four different dive sites per day.
What is the check-in process for flexible liveaboards?
Check-in is required the day before departure in Khao Lak before 7 pm.
Two of our flexible liveaboard boats' dive centres require you to 'check-in' on any day before your trip. This is to fit any rental equipment, sign a little bit of paperwork, show your diver card & logbook, and maybe pay the balance of the trip. The dive centres are all located in Khao Lak and they close at 7.00 pm. Koon9 guests can check in online.
What if I arrive too late to check-in at the dive centre
If you arrive in Khao Lak too late (after 7.00 pm the day before departure) to visit the dive centre for check-in, it is not ideal but it's something that we try to manage. We need to take full payment online, and if you need to rent any diving equipment such as BCD, wetsuit or fins, we need your height, weight & Euro shoe size. The dive centre team can then prepare the equipment for you. To show your diver certification and logbook, it's best to give us the information first and show them to the team on board.
The online payment & check-in is only possible if you're staying in a Khao Lak hotel. Our flexible liveaboards do not accept divers who stay in Phuket the night before departure.
What about large luggage items?
Large luggage items are usually kept safe for you at the dive centre. We understand that you will check out of your hotel, and if you need large items taken care of, then the dive centres can do this for you. It's not practical to take them on the speedboat and then into your cabin on the liveaboard. It's normal for the dive centres to put guests' large luggage in a secure place until you come back from your diving trip.
I want to stay in Phuket and join a flexible liveaboard trip on departure day
It is not possible to come from Phuket on the morning of your trip's departure day because the dive centres require check-in at least one day before departure. And it wouldn't be possible for the boat to wait for anyone that arrives late because the boats are on a strict schedule. For that reason, it is a lot better and safer to stay in Khao Lak rather than Phuket. The Khao Lak dive centres who run the liveaboard trips are open until 7 pm every day, and sometimes a little bit later. You need to check-in at the dive centre before 7 pm on any day before your trip.
Here are some reasons why you should be staying in Khao Lak rather than Phuket the day before a flexible liveaboard trip.
The transfer speedboats leave from a pier in Khao Lak, which is in another province north of Phuket. The journey from Phuket is more than one hour by private car or taxi, and to travel from the tourist beaches in Phuket can take more than two hours. Even if you have your own car, your own dive gear, and you pay in full in advance, it is very difficult, stressful, tiring & expensive to try to do this. Phuket's traffic is unpredictable, so you would need to leave earlier than necessary to be sure to arrive in time. And the pier is difficult to find, there is limited parking, and nothing to do, or places to wait. If you're late, the transfer speedboat has to leave on time, without you. And there's no refund in this case.
The dive centres require everyone to 'check-in' the

day before

. This is when you show your diver certification, sign a little paperwork, and maybe fit rental equipment or pay the balance of your invoice. Normally you are required to check-in before 7 pm on any day before your trip. The dive centres are located in Khao Lak, which means it's impossible to check-in if you're still in Phuket.
If you land at Phuket airport after 5.30 pm the

day before

your flexible trip's departure, it's too late to check-in before 7 pm in Khao Lak. But if you're travelling to stay the night in Khao Lak, we can help you.
You can't 'check-in' in the morning of your departure because in the morning the teams only deal with the logistics of picking everyone up and taking them to the pier. They don't have time to help you fit equipment or take payments. The offices aren't even open that early in the morning because the office staff worked late the night before.
Even if you are able to organise the payment, equipment and prove your diver certification, and you sign the disclaimer on the speedboat, it's a very long day. Coming from Phuket in the morning means waking up very early (5.00am), travelling an hour or two by private taxi or car, then travelling by speedboat for more than one hour, then diving three times. It is too stressful and tiring, even if you do everything to make the logistics work and you have a private taxi or your own car.
How long is the speedboat transfer, and from which pier?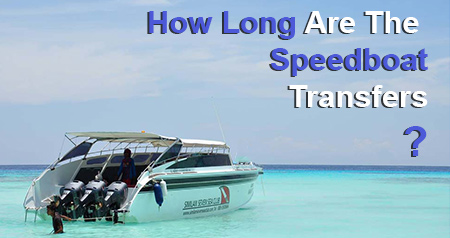 The length of the speedboat transfer is usually more than one hour and up to one & a half hours (60- 90 minutes). The time depends on three things.
Where the main boat is located. Koh Tachai is further away from Tab Lamu Pier than the Similans & Koh Bon. Richelieu Rock and the Surin Islands are the furthest destinations.
The speedboat. A boat with lots of people on board or fewer engines cannot travel as fast as a boat with less weight and more power. Each of the flexible liveaboards uses its own speedboat.
The conditions. Waves caused by the wind will slow down any boat, and speedboats are affected more than large boats. At the start and end of the season (late October & late April), there is more chance of bigger waves than during peak season (December-March). Also, the journey back is usually faster than the journey out because the speedboat is travelling in the same direction as the waves when coming back to the mainland.
Our three flexible liveaboards' dive centres and departure piers are in Khao Lak, which is one hour north of Phuket Airport by taxi. The boats usually use Tab Lamu Pier which is about 20 minutes south of central Khao Lak. The dive centres will collect you from your Khao Lak hotel and drive you to the pier for free. The pickup times are fixed, and they depend on the location of your hotel. They collect guests furthest from the pier first, and guest nearest to the pier last.
When can we check in to our cabin?
You can't check in to your cabin as soon as you arrive on the liveaboard. The normal check-in time is after your first or second dive after the guests who are already there have checked out and the team have cleaned the cabins. (Your luggage is securely stored until your check-in time).
What are the cabins like?
Koon9 - Twin Cabin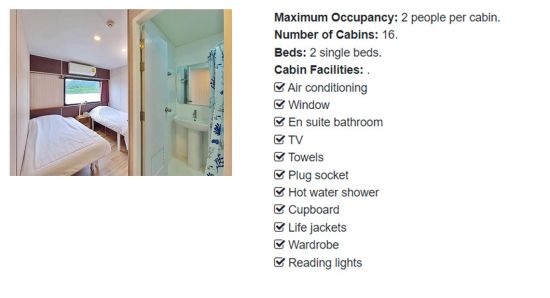 Koon9 - Double Bed Cabin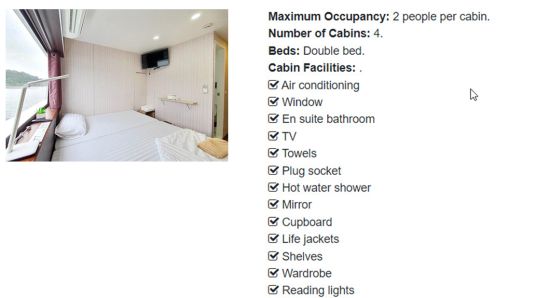 Nemo has four double-bed cabins and three 4-bunk shared cabins. The air-conditioning is independent for each cabin, but controlled by the staff. You are welcome to request the temperature to be changed.
---
Lapat - Twin Cabin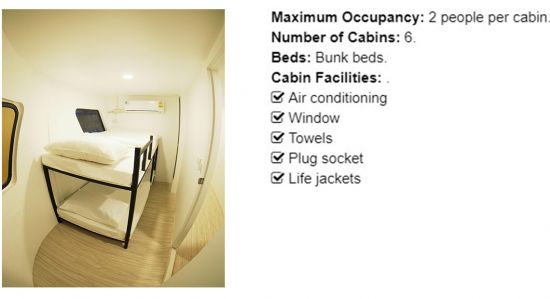 Lapat - Double En Suite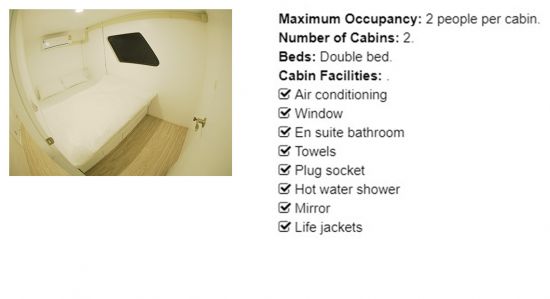 Lapat has six twin-bed cabins which have bunk beds, and two double-bed cabins. They are all on the main deck. They all have independently-controlled air conditioning.
---
Similan Quest - Twin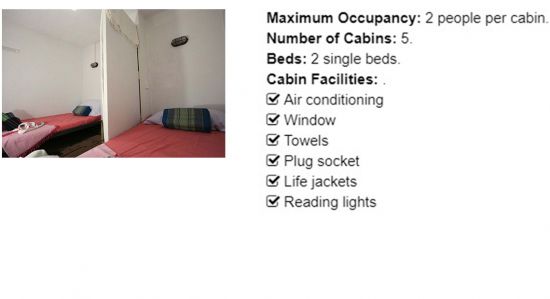 Similan Quest - Double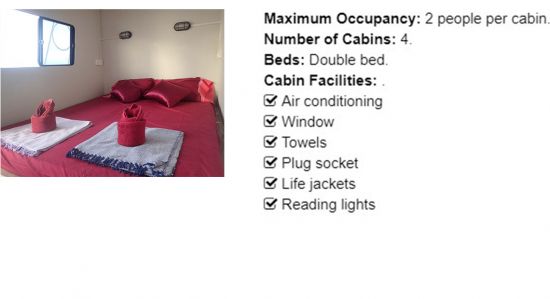 Similan Quest has four double-bed cabins on its upper deck, and five twin cabins on its main deck. The twin cabins have side-by-side single beds which have a partition to provide more privacy. The shared bathrooms are on the main deck.
---
Flexible liveaboard boats are no different from scheduled boats. It's only the trip logistics which are different. Therefore, the cabins are just the same as all our other boats. They have air conditioning and normally have a window. Solo divers and friends stay in shared cabins (2 single beds) and couples stay in double-bed cabins.
All of the cabins on Similan Quest share bathrooms. Don't worry, there are enough bathrooms to ensure that most times you don't have to queue at all and if you do it's not for long. Lapat's twin cabins share three communal bathrooms on the same deck, and its two double-bed cabins have private bathrooms.
Koon9 has a private bathroom in every cabin. Most of its cabins are twins, but it has a few doubles, too.
Like on planes, space is very important on boats, so don't expect a huge cabin. There's enough room for small luggage items, but not for large suitcases. All of the beds are designed for westerners, and they are big enough for nearly everyone.
Is vegetarian food available?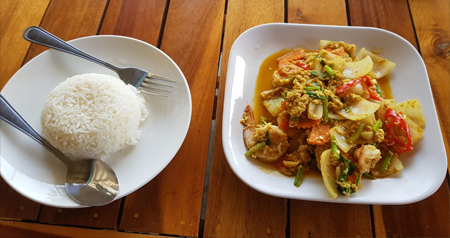 , all of our liveaboard boats have vegetarian food. Meals are normally served buffet style and include a vegetarian option. But sometimes the kitchen team will prepare a separate meal for you. Please let the team know about your needs when you check-in at the dive centre, and again when you arrive on the boat. It's better to tell them too often than to not tell them enough. Yes
Other dietary needs can also be catered for, but please let the team know in advance, and again when you arrive on the boat.
Do we get breakfast on the first day?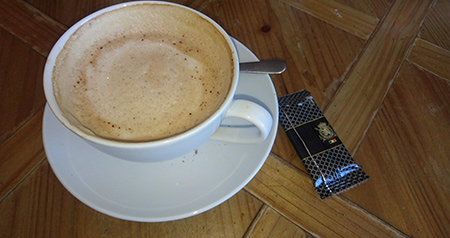 Yes, but not much. It's better for you to prepare in advance.
Here are a few reasons why it's not easy for the team to provide a proper breakfast on your first day.
Logistics
The team will collect you from your Khao Lak hotel and take you directly to the pier, where the speedboat is waiting. There isn't time to provide a proper breakfast in the vehicle or on the speedboat.
Eating too much before a dive
If you eat a proper breakfast before a 20-minute drive to the pier and then a speedboat journey that is in the opposite direction of the waves, you may vomit. And the speedboat doesn't have time to stop to wait until you feel better.
Time
Once you arrive on the main boat it is already 9.30 am and the first dive is planned for 10.00-10.30am. You need to do a final check of your equipment and listen to a boat & safety briefing. There isn't time for a proper meal, and even if you had one it's not ideal to dive so soon after eating. Our flexible boats usually provide a light breakfast on the main boat, but not too much.
Will we visit a Similan Islands beach?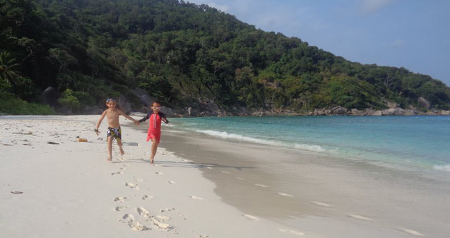 If the boat is near to Similan Island #4 or Similan Island #8 then there is a good chance that you can go onto the beach. Island #8 has the famous viewpoint of Donald Duck Bay. However, there are factors which sometimes make beach visits impossible. These include the local authorities' regulations and collection of water.
Local regulations have been changing a lot recently. In May 2016 the beach at Koh Tachai was closed to the public indefinitely. In May 2018 the government-run accommodation on Similan Islands #4 & #8 was also closed. The reasons are to protect the fragile ecosystem. Every year more visitors arrive and this is having a negative effect on the corals and island wildlife. It's possible that the authorities have or will introduce new policies, such as limit the number of visitors per day or close a beach with little or no warning.
Flexible liveaboard boats try stay out at sea for many months without returning to the mainland. There are some water-filling stations at The Similans, and the captain needs to regularly visit them to collect fresh water to use on the boat. This sometimes clashes with the days when guests want to visit the beaches.
The teams on our flexible liveaboards always try their best to make guests as happy as possible. Only factors that are out of their control will prevent you from being able to visit the beaches when your flexible liveaboard is near one.
Can I do a night dive?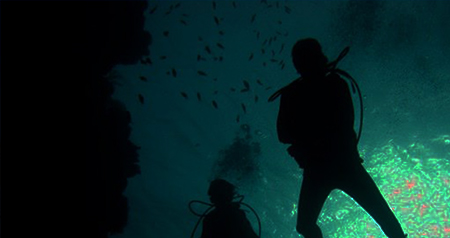 On Similan Quest, you can choose between a night dive and a sunset dive, but not do both on the same day.
Lapat normally offers sunset dives more than night dives. Their reasons for this as follows
Lapat is mostly at dive sites which are unsuitable for night diving.
It's very difficult to organise the staff.
Sunset dives are longer and deeper than night dives, so you get more value.
What's included? Do we get towels?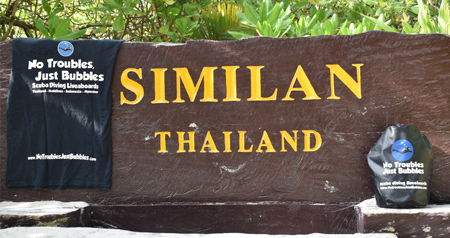 Yes, a clean towel is provided for every guest on our flexible liveaboard trips. Also, guests who book with us and share our page can choose to get a free beach towel or a dry bag in addition to a free t-shirt.
Included on all our flexible liveaboard trips
Full-board accommodation (meals, drinking water, tea, coffee & snacks)
Scheduled transfers from most Khao Lak hotels and guesthouses
Divemaster guide services, weights, 12-litre tanks & weight belts
Use of a dive computer on Nemo 1
Excluded additional fees
National park fees (500 - 1,800 THB depending on the trip)
Diving equipment (if you don't have your own)
Diving insurance
Soft drinks/sodas (available onboard for reasonable rates)
Beer (available onboard for reasonable rates, and only after your final dive of the day)
For more information about what's included and exclude go to the individual boat pages MV Lapat, Similan Quest
Can non-divers join, and can they snorkel?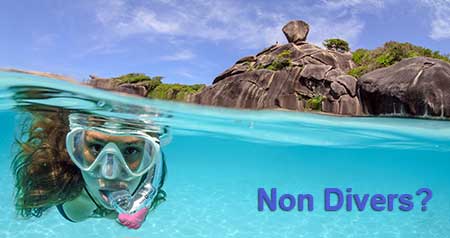 Yes, non-diving guests are welcome to join, and even children older than 8 years old, too. All of the dive sites have very clear water and lots of fish, but snorkelling is only possible at some locations.
Snorkelling at The Similan Islands
The Similan Islands is the best place in the area for snorkelling. There are many shallow reefs and two beaches.
Snorkelling at Koh Bon
Koh Bon has a bay with shallow water above the reef. There is no beach, but snorkelling is possible.
Snorkelling at Richelieu Rock
Richelieu Rock is all underwater, and there is no beach or island for many miles in every direction. Boat traffic, potential currents, and its exposed location mean that snorkelling is not possible.
Snorkelling at Koh Tachai
Koh Tachai has a pristine beach, but in 2016 it was closed to the public. No boats are allowed near the beach, and therefore snorkelling is not possible. The dive site is prone to currents and it's too deep to snorkel.
Snorkelling at Surin Islands
The Surin Islands have lots of nice spots for snorkelling, with healthy shallow reefs.
Please note that the itineraries and destinations are designed for the divers, because they are the majority of the guests. Non-diving guests are welcome, and the teams do all they can to give snorkel opportunities, but these trip focus on diving.
Do day-trip divers join?
Yes, the flexible liveaboards offer day trips. The day-trip guests arrive on the speedboat, do two dives, and then return to Khao Lak in the afternoon. Don't worry, there is always enough food, equipment, staff and seating spaces on the boat. Unless there is an extreme need in peak season periods, day-trip divers will not affect your experience.
Who will I dive with?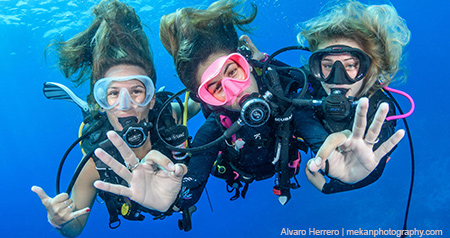 On all Similan liveaboard trips, the dive groups are made up of divers who have a similar level of experience, certification, & air consumption. Four divers per guide is the normal maximum, but sometimes it's five, and often it's less than four.
If you are a couple, friends or a family, you will probably want to dive together. This is fine, but the maximum depth will be the shallowest of your group. For example, if some of you are AOW (30m.) and one is OW (18m.) then the maximum depth your group can dive to will be 18m.
If you are alone, or less than four people you will be put into a group of similar divers to you.
On flexible liveaboards, the guests and staff change most days. Therefore, the other divers in your group or your Divemaster guide may be different from one day to the next. They try their best to keep things the same, but guests come and go most days, and the staff need to return to land every few days to take a break from diving. In this case, using a dive computer is recommended.
Are flexible trips cheaper than scheduled, and why?
It's impossible to make a direct comparison between the flexible and scheduled trip prices. On scheduled trips, you usually get an extra night's accommodation, plus one or two more meals when compared to a flexible trip with the same number of dives or diving days. For example, a 4 Day / 4 Night 14-dive scheduled trip compared to a 4 Day / 3 Night 14-dive flexible trip. Also, because most people who choose a flexible trip go for 2 Day / 1 Night this is obviously cheaper than scheduled trips which are always longer than that. Depending on whether you prefer to compare 'per dive' 'per night' or 'per meal' there is not much difference in the prices of flexible liveaboard trips when compared to scheduled trips.
What are the minimum requirements for diver level & experience?
Minimum Requirements for Certification Level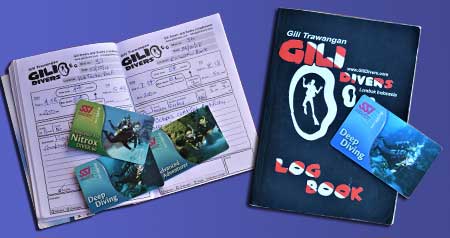 All of the liveaboards welcome every certified diver. Open Water is the minimum autonomous diver level, enabling you to dive to 18 metres. None of our flexible liveaboards require you to be certified higher than Open Water (OW), although most divers are AOW (Advanced) or higher. Some dive sites, such as Richelieu Rock are better enjoyed by divers who are able to go down to 30 metres, but OW divers can still enjoy Richelieu Rock if limited to 18 metres.
Minimum Requirements for Most-Recent Dive
Most dive operators require you to have dived within one year of joining a liveaboard trip. Their reasons for this are mainly so that when you jump in for your first dive you don't panic, waste your air and everyone's time, and so you can descend to the reef at a reasonable speed. If you haven't dived within a year, you can do a refresher dive in a pool, at a local reef, or with an instructor as the first dive of your trip.
o two years ago.
Lapat
Lapat requires your most-recent dive to be no more than one year ago, but they are flexible depending on each case.
Similan Quest
Similan Quest requires your most-recent dive to be no more than one year ago, but they are flexible depending on each case.
Koon9
Koon9 requires your most-recent dive to be no more than one year ago, but they are flexible depending on each case.
Minimum Requirements for Logged Dives
There is no minimum logged dives requirement. Some of our guests have only 4 dives from their OW course.
All of the teams are experienced about managing divers of different levels of certification and experience.
Less-experienced divers will be placed in groups that will dive an easy or gentle profile.
Experienced divers will be in groups of other experienced divers and will dive a more-adventurous profile.
Are diving courses available on flexible trips?
Yes, all the normal courses are available on flexible trips the same as on regular scheduled trips. These include the Advanced course and other speciality courses such as Nitrox EANx. It is normally necessary to book in advance so that the team can prepare the staff and materials.
Can I dive with Nitrox on a flexible liveaboard?

Lapat - Nitrox
Lapat can sometimes manually mix Nitrox but this takes time and they have limited available oxygen.
Similan Quest - Nitrox
Similan Quest does not offer Nitrox fills.
Koon9 - Nitrox
Koon9 has Nitrox available
Please note that if you dive on Nitrox, your dive profile can only be a Nitrox profile if everyone in your group (including your Divemaster guide) is also using Nitrox. Therefore, if you are just one or two people and the only ones on the boat that day who want Nitrox, you will most likely be put in a group with divers on air. You can still use Nitrox for added safety and less tiredness, but the dive profiles and surface intervals will be based on air.
What about a 'check dive?'
Scheduled liveaboard trips always make sure that the first dive of the first day is a 'check dive.' It is usually at an easy dive site that doesn't have current or many other boats. This gives the team the opportunity to assess everyone's diving skills and air consumption. This is not possible on a flexible liveaboard because of people coming and going most days.
Flexible liveaboard trips can't do a check dive for the whole group of guests at the same time because the first dive of your trip may not be the first dive of others on the boat. But they do make sure that everyone is carefully monitored, especially on their first dive of the trip.
Which of the flexible liveaboards is best for me?
This is a very difficult question to answer because everyone has different needs and requests. If you have read this far down the page, then you probably already have an idea of which boat will be best for you, but we can help some more. In the table below we rate each of the three boats, based on our opinion for each of the listed factors.
| | | | |
| --- | --- | --- | --- |
| Flexible Liveaboard Comparasion | MV Koon9 | MV Lapat | Similan Quest |
| Price | From 15,900 THB | From 12,900 THB | From 11,500 THB |
| Choice of dive sites | Similan Islands, Koh Bon, Koh Tachai, Richelieu Rock, Surin Islands | Similan Islands, Koh Bon, Koh Tachai, Richelieu Rock, Surin Islands | Similan Islands, Koh Bon |
| Food | Buffet meals, inc. vegetarian | Buffet meals, inc. vegetarian | Buffet meals, inc. vegetarian |
| Transfer speed | 70-90 minutes | 75-85 minutes | 60-90 minutes |
| Multilingual team | English / Thai / others | English / Swedish / Spanish / Thai | English / Thai |
| Private bathrooms | Yes | Yes | No |
| Small air-conditioned lounge | Yes | Yes | No |
| Free dive computer | No | No | No |
| Equipment rental rates | 500 THB / day | 500 THB / day | 450-550 THB / day |
| Land transfer distance to the pier | n/a | 26 km from central Khao Lak | 13 km from central Khao Lak |
| Booking terms (deposit) | 30% deposit + balance one month before departure | 30% deposit + balance one month before departure | 30% deposit + balance due on arrival |
| Suitability for Non-divers / Snorkellers | Most days | Sunday afternoons, Mondays, Tuesdays, Wednesdays & Fridays | Every day |
| Price for non-divers | Please ask | From 9,100 THB | From 6,500 THB |
| Year built | - | 2015 | 2017 |
| Nitrox | Yes | x | No |
| Beach visits | Some days | Some days | Yes |
| Night diving option | Some days | No | Yes |
| Many day-trip guests | Sometimes | Sometimes | Sometimes |
| Requirements for most-recent logged dive | 1 - 1.5 years | 1 - 1.5 years | 1 - 2 years |
If I like it, can I stay longer?
Yes, if there is space then you can sometimes add an extra night or more to stay on the boat. But during peak season (December – March) your cabin may already be pre-booked to someone else. So maybe you have to change cabin or you can't extend your trip. If there is space and staff, then you're always welcome to stay longer, and you can pay the extra at the end. The additional day rates depend on your cabin and which boat you're on, but they are very reasonable.
But due to the new regulations introduced in October 2018, your national park entry ticket needs to be bought in advance. This makes it very difficult to extend your stay at the last minute.
---
You can find out more about each of these flexible liveaboards (schedules, features, prices, pictures) by going to each boat page below.