Sorry WAOW we don't have trips for this boat at the moment.
These are some alternatives
WAOW is a very large (60m L.A.O / 46m L.O.D) luxury diving yacht that sails around the Indonesian archipelago, offering scuba diving cruises at the perfect location throughout the year. Instead of focussing on one area, WAOW trips are designed to be wherever the diving is best in Indonesia for each month of the year. Trips range in length from one week aboard to nearly a fortnight.
The size of WAOW would suggest that there are many guests on board, but the maximum capacity is just 20 on scheduled trips, or up to 24 on charters. Not only are the cabins spacious, the communal areas are also much larger than the boat's competitors. In addition to the 40m² dive platform, WAOW has a dedicated camera room, with charging stations and a computer. There are two large sundecks (50m² & 40m²), and a huge shaded outdoor dining/socializing area (120m²) and a smaller one at the rear of the boat. However, most guests choose to enjoy the sumptuous meals in the air-conditioned restaurant, which is complemented by the beautiful lounge.
The delicious food on WAOW is something that the management, chef and whole crew take great pride in. A delicious mixture of local and western cuisine is on offer, and special dietary needs can be catered for. In fact, those who charter WAOW can even opt for a French chef! Snacks & fruits are available throughout the cruise, in addition to four hearty meals served each full day. It's almost guaranteed that guests returning from a week or more aboard WAOW will not have lost any weight!
The cabins on WAOW really need to be seen to be believed. There are three levels of luxury, with the least expensive still considerably larger and more luxurious than the best cabin on many other boats. The cabins are designed for two guests sharing twin beds or a double. Some cabins have an extra single bed, too. Each cabin is air conditioned & en suite, with hot & cold freshwater showers. All cabins have a wall-mounted flat-screen tv, sofa, writing desk, lots of storage space, Wi-Fi, & LED lighting. Their design is tastefully artistic, and blends character with convenience & modern amenities.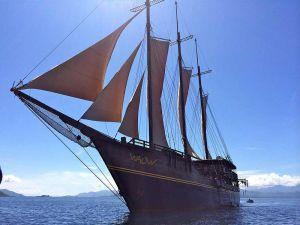 The deluxe cabins are 24m² in size and located on the lower deck. The 'Superior cabins' are on the main deck and have their own private outdoor lounge area. WAOW's master cabin is on the upper deck and offers the ultimate in luxury, with a private sundeck. The cabin is 45m² and beautifully appointed.
Such is the space and luxury on WAOW that guests could be forgiven for skipping the occasional dive, or even forgetting that being underwater is the main purpose of each trip! There is wifi on board, and a massage service. In addition to SUPs and canoes for guests' use. Naturally, navigation, communication & safety facilities on WAOW are all modern & up to date, and crew members are well-trained and experienced for any unforeseen situation. Finally, there are 25 crew on board for no more than 20 guests on scheduled trips, ensuring the best service and safety at all times.
Prices & Schedule
WAOW Diver Prices Overview 2023 / 2024
Destinations
Duration
Deluxe
Superior
Master
Boat Schedule and prices coming soon
View More Available Months
Itinerary
WAOW has a wider range of itineraries than any other liveaboard diving yacht in Indonesia. Because of this, we are unable to fully detail every trip on this page. We have published the more popular itineraries below. For any other itineraries, please contact us. We have a full list and we are happy to share the itinerary/itineraries of your chosen WAOW cruise(s).
For WAOW itineraries which you do not see on this page, please contact us immediately. We have the information for every WAOW cruise, but we feel that detailing every cruise can become confusing, and may waste your time downloading and scrolling the page.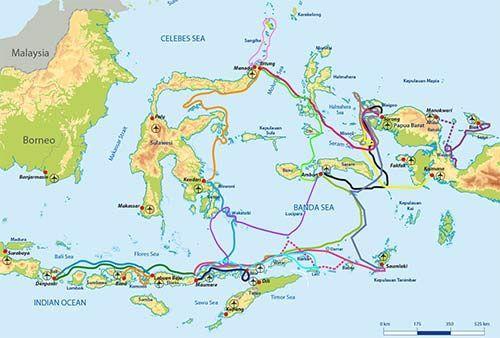 Facilites, Layout and Specifications
Facilities Available with WAOW
Nitrox Available
En Suite Available
Air con
TV in Cabin
Dinghy
Courses Available
Free Pickup
Suitable for Children
WIFI
Lounge
All Cabins En Suite
AV Entertainment
Vegetarian Food Available
Double Beds Available
Family Cabin
Sundeck
Shaded Sundeck
Beach Transfers
WAOW Layout
Upper deck

Main deck

Lower deck

WAOW Specifications
Length:
60 metres
Beam:
11 metres
Draft:
3.8 metres
Weight:
800 gross tonnes
Rigging:
3 steel masts (42; 45; 42 metres), 950 m2 of sails
Engines:
2x 500hp Yanmar marine diesels
Generators:
2x 100 kVa generators, 1x 40 kVa. 220V & 110V, also available in photo room
Speed:
Cruising speed 8 - 10 knots using engines only
Navigation:
High & low frequency Sonar, GPS, computer mapping, HF & VHF radios, radar, satcomm, weather fax & sat phone, etc.
Fuel:
32,000 litres
Water:
12,000 litres, produced by 2x (2,500l/day) watermakers
Passengers:
20
Crew:
25
Courses
Courses are available on WAOW include the PADI AOW (Advanced Open Water) and Nitrox EAN32. Anyone wanting to take a course should contact us in advance, so that we can offer the best & most up-to-date information, and prepare the materials & staff.
Contact us for more information about courses on WAOW
Transfer details
Free transfers at the beginning and end of each WAOW cruise are available from local hotels and the nearest airport to the port on the day of departure. The same applies for disembarkation transfers at the end of each trip. Domestic flights to the airport are not included, but we are happy to help with advice for and the booking of flights within Indonesia to perfectly coincide with the WAOW cruise. In fact, we advise guests to confirm the cruise before booking any flights.
Booking / Enquiry
Booking or enquiring is easy follow these steps
Step 1:
Complete the form below by entering your details
Step 2:
We usually reply within 2 hours (please check your email & spam)
Step 3:
We can reserve your space(s) commitment-free for up to one week
Step 4:
Deposits to book are usually paid using any card, PayPal or bank transfer