Sorry MV Flying Seahorse we don't have trips for this boat at the moment.
These are some alternatives
Sorry MV Flying Seahorse we don't have trips for this boat at the moment.

Please see our other liveaboard boats to find similar a boat or

contact us

so we can hep you find another dive boat.


Thailand
Type: Liveaboard
No. of guests: 17
Read all MV Flying Seahorse reviews
**sorry Flying Seahorse is no longer sailing, Please check out some of our other boats**
There are several things which are unique about the Flying Seahorse, and these include its start and finish locations on each trip, and the variety of trips available. However, like almost all of the boats we offer for Similan diving cruises, all cabins are air-conditioned and safe & enjoyable trips are guaranteed. This great-value liveaboard boat is well worth considering for a Similans diving safari, as well as cruises elsewhere in southern Thailand. It is currently the only liveaboard boat sailing all teh way down to Koh Lipe.
Flying Seahorse is 24m in length, which is about average for this kind of boat, but unlike many others her size, she is limited to just 17 guests on each trip. These lucky passengers can choose between a range of cabins including, bunk bed, double bed, and en suite master cabin.
Sailing from Koh Lanta, a peaceful island near to Thailand's mainland at Krabi Province, Flying Seahorse trips begin in the evening or morning and start with an easy dive around Koh Phi Phi before sailing out into the Andaman Sea for wonderful cruises around the world-famous Similan Islands. There's no need to deal with the airport or traffic of Phuket, or the 100km road trip up to Khao Lak, where most Similan Islands liveaboard trips depart from. Krabi Airport and Koh Lanta are far more relaxed and easier to deal with than Phuket.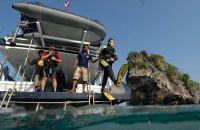 The Flying Seahorse has just undergone a renovation and added a couple more bunk beds, increasing its guest capacity to 17, these include double bed & quad bunk cabins and the master en suite. The upper deck is where to find a couple of guest cabins and the open air (covered) dining area. The main deck is where the bathrooms are, plus more cabins and the pride of the ship, the en suite master cabin. At the rear of the boat, there is a large dive platform which has been designed to allow for safety and convenience. Nitrox fills are available, and everyone's equipment is stored sensibly for the whole trip. At the end of dives, guests can use either of the two ladders or be retrieved by the motorized tender dinghy. In all cases, the attentive crew will help divers out of the water.
In addition to 5D/5N diving trips to The Similan Islands, guest can choose shorter trips to Koh Haa & Hin Daeng, which are not far from Phuket, or even sail south to Koh Lipe for 5D/5N, stopping off at Hin Daeng.
There is a range of diving courses available on Flying Seahorse, and a liveaboard trip in Thailand is absolutely the best opportunity to take part in a diving course. The prices are low and the conditions perfect. High-quality equipment is available for rent at competitive rates, and everything but alcoholic drinks is included in the price.
Prices & Schedule
View More Available Months
Itinerary
Facilites, Layout and Specifications
Facilities Available with MV Flying Seahorse
Nitrox Available
En Suite Available
Air con
Dinghy
Courses Available
Free Pickup
Suitable for Children
AV Entertainment
Vegetarian Food Available
Double Beds Available
Family Cabin
Sundeck
Shaded Sundeck
Available to Charter
MV Flying Seahorse Layout

1. Master cabin.
5. Staff cabin.
2. Double bed cabin.
6. Galley / Kitchen.
3. Bunk bed cabin.
7. Equipment room.
4. Captain's room.
8. Shower / Toilet.
MV Flying Seahorse Specifications
Hull:
Wood.
Length:
24 metres.
Beam:
5.9 metres.
Engine:
6 Cylinder 365 HP Hino.
Maximum Speed:
10 - 11 Knots.
Diesel capacity:
4000 litres.
Water tanks:
8000 litres.
Electricity:
220 v AC - 24/12 v DC.
Generators:
1 x 20 Hino, 1x 30 Hino.
Navigation:
GPS Satellite Navigation, Depth Sounder and Compass.
Safety:
CB Radio, Life jackets, First Aid and Oxygen tanks.
Dive tanks:
20 x 12 litres + 2 x 15 litre Aluminium.
Cabins:
1 Master cabin, 2 double bed cabins and 4 Bunks bed cabins.
Dinghy:
15 hp outboard Zodiac.
Crew:
Captain, engineer, cook & assistant, deck hands.
Dive Staff:
Up to 4 Divemasters / Instructors.
Courses
PADI & SSI courses are easily taught on liveaboard trips. In fact , it's the best place to do one. There are lots of options available, from a one or two dive mini-course, such as Deep Adventure Dive, to an Open Water Diver course for those who have never dived before. By far the most popular diving course on a liveaboard boat is the Advanced Open Water course. This is 5 interesting & exciting dives with a fully-qualified instructor. Nitrox (enriched-air diving) is also popular, as is Discover Scuba Diving (intro dive) for those who just want to try. Please contact us for the best quotes and advice for taking part in a diving course on MV Flying Seahorse.
Contact us for more information about courses on MV Flying Seahorse
Transfer details
Flying Seahorse guests are welcome to take advantage of free transfers at the beginning & end of each trip within the 'free pick up zone' which is the northern part of Koh Lanta Yai.
Guests coming in from Krabi International Airport can contact us to arrange a private taxi on their behalf.
Guests who are unable to meet the scheduled pick ups or would like private transportation are welcome to contact us to arrange a private taxi at the most competitive rates.
Booking / Enquiry
Booking or enquiring is easy follow these steps
Step 1:
Complete the form below by entering your details
Step 2:
We usually reply within 2 hours (please check your email & spam)
Step 3:
We can reserve your space(s) commitment-free for up to one week
Step 4:
Deposits to book are usually paid using any card, PayPal or bank transfer
MV Flying Seahorse Reviews
Read real reviews from people who have dived with MV Flying Seahorse